As we have already discussed what an email finder is. What is email finder software?
An email finder software is a tool that allows finding personal or business email addresses online from various web pages. A majority of email finders operate as web apps, Chrome extensions, or both.
The tool will help you find other similar email IDs that could potentially assist you. The best thing about this tool is that it allows you to download the entire list of email addresses to keep them locally. But finding email IDs is just the beginning. You need email IDs that work.
Few email finder and validator software like GrowMeOrganic ensures that you are using the right email ID with the help of email validator functionalities.
It's important to have a valid email address to reduce bounce rates and improve the deliverability rate. That's where email validator software comes to your help.
The free email list can cost you a significant amount. The value of a no-cost email list is not worth more than the time it takes to utilize it. It is highly suggested that you create your email list using an application that will help you make an efficient list. Tools like GrowMeOrganic provide these features.
The email finder software should have certain features
This software is very useful for advertising experts in the industry because the operating costs are reduced by half, along with the time taken. Though this is not true for every tool. For eg: Lusha & Snovio have a set limit on the number of credits that they offer, halting their service after you reach a certain number.
GrowMeOrganic is a fine email finder tool that will provide effective and essential features. Let's look into its features
Cost-effective – Having unlimited credits means you pay less than $0.01/per lead. Could it be more affordable? The affordable term is very subjective but at the same, it is very important to invest wisely in email finder tools. GrowMeOrganic provides unlimited credits to find emails at a very reasonable price.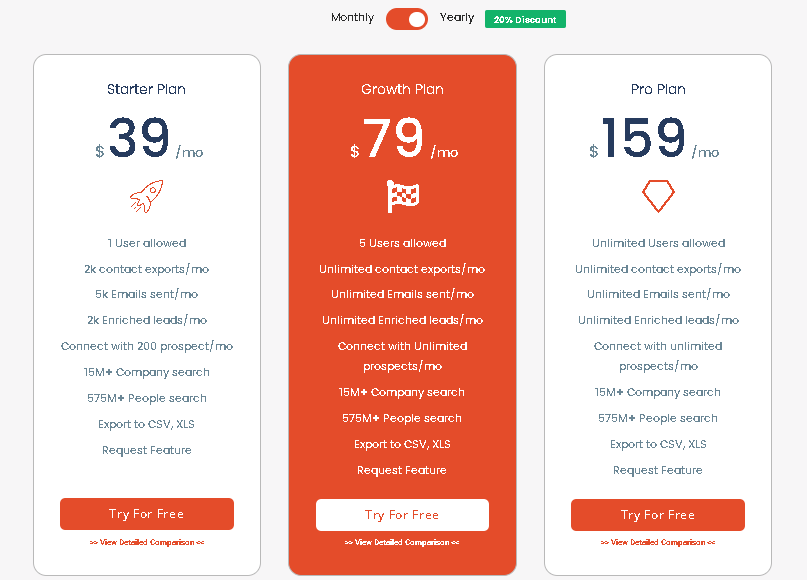 Truly Unlimited – Tools like GrowMeOrganic provides truly unlimited credits on all its features. This simply means that you can extract unlimited emails and prospects per month with this tool at the industry standard price.
All-in-one – GrowMeOrganic is an all-in-one prospecting & cold outreach platform, whereas there are other tools in the market which are just categorized as simple extracting tools. Here's what you get

Verified Contacts
Emails and Phone numbers
Company Details
Automated Bulk Exports
Handy Tool – Handling these tools should be not quantum physics, it should be as handy as it can be. They very much have considered this point, GrowMeOrganic tool is easy to use. It also provides a book-a-demo class. Also a detailed video for every feature they inherit once you signup for the free trial and you may also find their Youtube videos on the Youtube channel.
24 X 7 support – Solid customer support is an important part of running a business. Don't forget to consider software whose customer service is dependable, and won't force you to wait to get it.
About Post Author