Email and phone number finders with real-time verified personal+work emails and cell phone numbers are how SignalHire describes itself. It's an app in the web browser category and has a built-in database with 400 million social media accounts worldwide. There are more than ten SignalHire alternatives.
.
GrowMeOrganic offers one of the premier LinkedIn email finder chrome extensions that can be a Chrome LinkedIn email finder add-on. With this add-on, you can extract email, telephone numbers, industry websites, job titles, and other data from LinkedIn with one click.
It is first-rate clean and 100% secure to apply with LinkedIn. Even with limitless search credit, GrowMeOrganic guarantees that you may seek and export as many authentic emails as you need from LinkedIn.
Compare GrowMeOrganic with different famous LinkedIn Email Finders: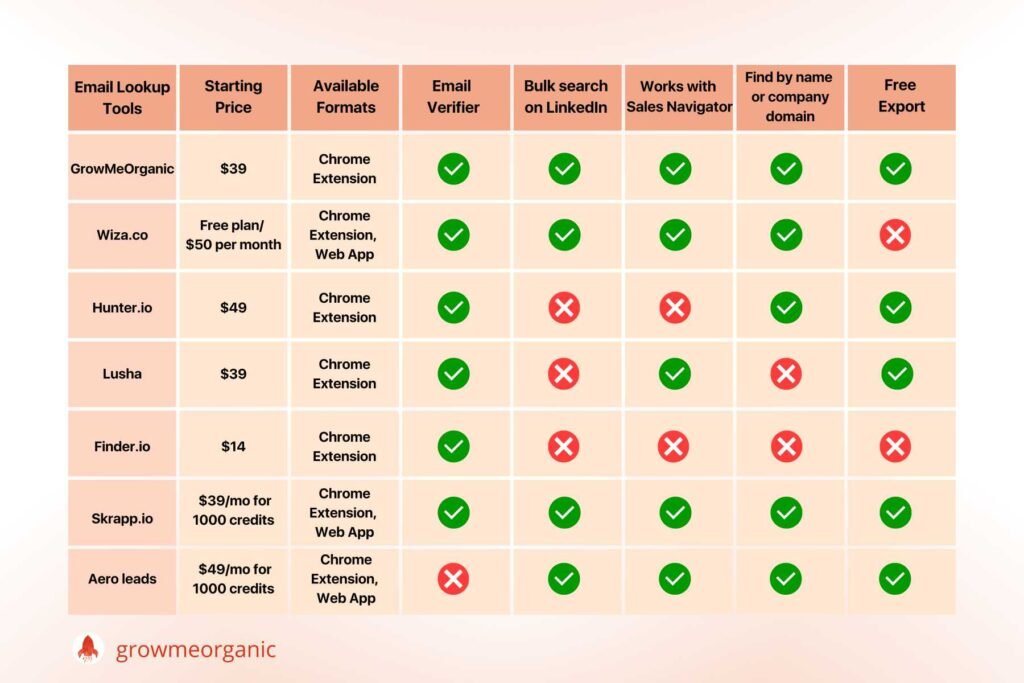 Features include:
Unlimited search and export credits, no string attached
Single-click on bulk export LinkedIn email finder chrome extension
Human-like conduct and quality exercise implementation
Provides Detailed company information of thousands of companies, including the number of employees, industries, and search features.
Offers cold email Response services, email list acquisition, and knowledge base and tutorial videos
Automated call for support Virtual assistant Support services
Schedule a demo call with the team.
| | | | |
| --- | --- | --- | --- |
| FEATURES | Starter | Growth | Pro |
| Users Allowed | 1 | 5 | Unlimited |
| Contact exports/month | 2k | Unlimited | Unlimited |
| Search/Month | 15M+ Company search 575M+ People search | 15M+ Company search 575M+ People search | 15M+ Company search 575M+ People search |
| Emails sent/month | 5k | Unlimited | Unlimited |
| Pricing/Month | $39 | $79 | $159 |
| Images, Attachments & Link Tracking | ✔ | ✔ | ✔ |
| Prospects/month | Connect with 200 | Unlimited | Unlimited |
Zoho Recruit
A method for tracking applicants called Zoho Recruit helps recruiters overcome various difficulties.
Zoho Recruit assists you in finding, tracking, and hiring the top prospects without the need to switch between various media. It offers comprehensive solutions for both in-house recruiters and employment agencies.
Create a unique workday by automating email sending, interview status updating, and more.
Plan better hiring tactics by having reports and statistics at your fingertips.
SeekOut
The most reliable talent intelligence platform, SeekOut, makes it possible for modern recruiters to quickly locate and connect with qualified applicants. Recruiters can access underutilized talent pools of millions of global profiles with SeekOut's user-friendly AI-powered search technology, find skilled candidates with unprecedented speed and precision, and engage with them immediately by obtaining the appropriate contact information in a single click.
– Talent for Digital Transformation that is Untapped
Access hundreds of millions of prospects from underutilized talent pools, such as open profiles, GitHub, papers and patents, employee recommendations, former employees of the organization, candidates in your applicant tracking system, and more.
– Industry-leading AI Talent Search Engine
Top talent may be found quickly and correctly using direct search, customized Boolean and power filters, and robust AI/ML approaches.

Lead4111
Lead411 offers the most comprehensive and accurate data about contacts and businesses in the marketplace.
We presently work with 20 million enterprises and have over 450 million contacts.
Customers can access entire contact data profiles and locate expanding businesses more likely to be in a purchase cycle for adding services/solutions by using targeted filters and Growth Intent Data.
For unlimited data, inquire!
They also give Buyer Intent Data powered by Bombora, which enables you to find businesses interested in the solutions or services you offer based on subjects and the decision-makers you should contact.
Our sales intelligence triggers make finding the businesses you should contact simple.
CEIPAL ATS
An Applicant Tracking System (ATS) called CEIPAL ATS helps staffing and recruiting organizations automate their operations and close more placements more quickly. It is fully scalable and interconnected.
With more than 2,000 clients in the Staffing & Recruiting sector, CEIPAL is setting the standard for successful staffing through the mix of cutting-edge technology & outstanding VFM (Value for Money) offerings.
Job requisition, job posting, applicant sourcing, screening, and selection, e-boarding, social media integration analytics, CRM, mobile device functionality, job-board & VMS integrations, email integrations, and plugins are some of the key features.

SAP Successor Factors
By increasing the link between HR and business operations, SAP SuccessFactors solutions are revolutionizing the workplace and assisting enterprises in building long-lasting workforces and successful businesses.
The SAP SuccessFactors Human Experience Management (HXM) suite helps individuals and businesses achieve their best by spanning core HR/payroll, talent management, HR analytics/workforce planning, and tailored employee experiences.
The SAP SuccessFactors Human Experience Management (HXM) suite covers all significant facets of HR.
– Talent Management – Core HR and Payroll – Employee Experience Management
– Workforce analytics and human resources
iCIMS
The talent cloud startup iCIMS enables businesses to find, engage, hire, and advance the right personnel, resulting in a diverse and productive workforce.
More than 4,000 clients, including 40% of the Fortune 100, who collectively employ more than 34 million people worldwide, benefit from iCIMS' ability to drive transformation.
The instruments of yesterday were not made for the workplace of tomorrow.
The improvements offered by iCIMS satisfy organizations' new and evolving strategic business and talent needs.
To assist staff members in creating a winning workforce, the company developed the iCIMS Talent Cloud, boosted investment in internal mobility and progression, produced a dynamic applicant profile, and redesigned its brand in 2020.
The most excellent recruitment software from iCIMS includes:
Career sites to showcase an excellent employer brand.
Candidate relationship management to speed up the application process and create a strong talent pipeline
An applicant tracking system that uses cutting-edge AI and analytics to locate, manage, and hire prospects
Offer management streamlines the process of creating and delivering offers.
Onboarding to assist new hires in getting settled in
Using the candidates' and workers' chosen messaging apps, text engagement
Video interview software that allows for on-demand hiring
Talent evaluations that help you quickly qualify candidates
A video production facility that enables you to reinvent the hiring process by showing your genuine employee brand through employee-produced video testimonials.
The ecosystem of 700 partner solutions complements the iCIMS Talent Cloud's core talent acquisition features.
Smart Recruit
High-performance firms use SmartRecruiters' Talent Acquisition Suite to find the best recruits.
It is based on a cutting-edge cloud platform with an open marketplace for third-party recruitment services, and it has full capabilities for recruitment marketing and collaborative hiring.
Unlike the first-generation applicant tracking systems it replaces, SmartRecruiters provides an excellent candidate experience, hiring managers to want to use the product, and recruiters love us because we make their jobs easier. Employing SmartRecruiters gives businesses like Visa, Skechers, LinkedIn, Equinox, and McDonald's a competitive edge in hiring.

JobDive
Incorporating a patent-protected recruiting engine backed by a full suite of advanced features to drive the hiring process from first engagement to hire and onboarding, JobDiva is a global leader in Platform as a Service (PaaS) technology for staffing enterprises. It also has a partner ecosystem of more than 150 integrations.
Over 40,000 people utilize JobDiva globally.
JobDiva assists businesses in finding talent more quickly, engaging with customers more efficiently, and achieving commanding growth.
PayloCity
HR professionals can easily manage payroll, benefits, talent, and workforce management activities because of their all-in-one software platform.
Our technology is supported by a culture that genuinely cares about the success of our clients, which sets us apart from our competitors.
Providers will only sell you a product.
A partner, however, genuinely cares about you and your company.
A partner spends time getting to know you and comprehending your demands.
We collaborate with you to find the best solutions to help your company today while laying the foundation for an improved tomorrow.
The focus tomorrow will be on your team.
Everything we do is intended to help you accomplish your objectives.
We take on your daily tasks together so you can spend
Talent Orb
TalentOrb is an all-inclusive applicant tracking tool that manages the whole recruitment lifecycle.
Your dependable partner for quick and successful hiring is TalentOrb.
It streamlines the hiring process from the requisition through the candidate's onboarding by automating manual processes, monitoring performance, and reporting on it.
With the most recent technology, TalentOrb is a next-generation applicant tracking system (ATS) that manages the complex recruiting life cycle from requisition development through candidate selection and onboarding.
About Post Author