Looking for ways to find your prospects' email addresses? Well, you have come to the right place. In the business industry, finding an email address or list of email addresses is a big job and often, people look for the easiest way to do so. Engaging with your prospects through email marketing is considered one of the most advantageous marketing techniques. That's why we have compiled the 9 easiest ways for you to find someone's email address super easily.
So, let's begin our email hunt!
Why it's Important to Find an Email Address?
Before we move forward, it's important to understand why you need to find the right email address.  Because if you are planning to send an important and engaging email address, you wouldn't want to waste it on invalid emails, which will most probably bounce back.         
Engaging with your audience is quite tough than it seems because as per statistics, only 8.5% of outreach emails receive a response from the prospect.
But when you are sending it to the right audience, the chances of getting a response become much higher! This makes finding an email address very important and worth your time. This shows the value of email marketing and how progressive your business would be because of this. As we're clear with this, let's move forward.  
How to Find Someone's Email Address?
Here, we have discussed some pretty solid tactics and tools that will surely make your work of finding a person's email address a lot easier and give you desired results.
Let's start!
1. Find a Pattern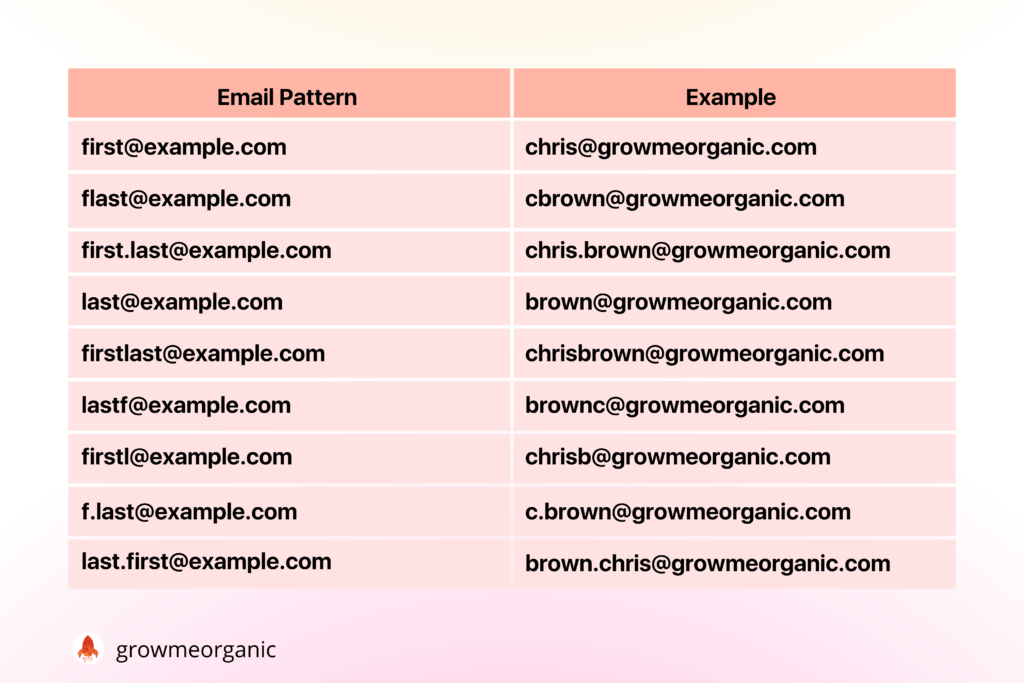 When you are finding a simple way to find out your prospect's company's name, the first thing that you can try is by using a generic email such as info@domain.com. This way you can reach out and ask for all the details that you need, directly.
The other way is by finding patterns in their email addresses. Suppose, you find an employee whose email is Joe.heard@domain.com, then this brings out a great possibility that the one you need also has the same pattern email address, which is the name.lastname@domain. Sounds fulfilling, right?
Now, when you find the pattern you've been looking for, use an email finder and search whether it exists or not. If it does, you are all set to reach out to your potential audience.
2. Use an Email Lookup Tool
The next thing that you can try to find the email address is by using an email lookup tool. This method is very simple, all you need is the prospect's name or website that will help the tool in searching for relevant email addresses.
Now, when it comes to using the email lookup tool, you need to make sure that it is useful as well as affordable. Otherwise, it's a waste of time and money. On the internet, you'll get tons of options for email lookup tones that will surely help you in many ways.
However, every email lookup service tool has different pricing and benefits. For instance, you can check out Snov.io, GrowMeOrganic, or the Email finder tool. All these perform similarly and run easily.
3. Use the Google Search
Google search is another way through which you can find someone's email address. It includes various ways such as:
By using the website, which will have the result of that domain only.
By mentioning a question mark in your query indicating Google to search for the same keyword. If your prospect's business has ever been presented publicly, your search results will have it on it.
By typing the prospect's name and 'email' next to it. This will result in giving you the email address that you need if it has ever been presented publicly.
4. Look around the Company Website
The next and extremely simple method is by exploring the company's website. As most companies mention the personal email addresses of their employees in their contact and about us section. Or you can check out the team page as well.
5. Try using Twitter's advanced options
Many people prefer Twitter to be an effective way in finding someone's email address. This is because people often mention their email addresses in their Twitter bio as well as tweets, but also hide them with the help of 'dot' and 'at' at the place of '.' and '@'.
However, using the Twitter Advanced Search option, you can easily search for your prospect's tweets that contain 'at' and 'dot'. This will bring you the exact email address of your prospect. And for better results, you can use the words such as email, contact, or reach in your search.
Apart from this, an alternative way exists in which, by using Twitter, you can directly approach your prospect through messages or replies.
6. Check their Social Media Pages
Many times, you can easily find your prospect's email address by checking their social media pages.
Through LinkedIn
You can begin with LinkedIn which is widely known as the biggest professional network platform. You can pick out the email address if your prospect has a publicly available email.
As an alternative, you can always choose to scrape all the publicly available email addresses through LinkedIn. Use the LinkedIn email finder tool to gain the list of potential email addresses or you can try an automation tool such as GrowMeOrganic.
Through Facebook
On Facebook as well, you can find your prospect's email address. Because while creating a page, people put on their email addresses as well. This will provide you with the most frequently used email address, being quite specific.
7. Search for Personal Websites and Blogs

You can also explore your prospect's website or blog, if they have any. All you have to do is search for any blog or article linked by their name. On their blogs or website, you can find plenty of information, including their email addresses especially if they have used the ult WordPress theme while creating their website.
8. Use People Search Website
If you have any idea about the profession of your prospect, then use the people search website to know their email address. For example, if they are a lawyer or doctor, you can easily find their email addresses through people search sites like 411.com and Google People Search.
This will help you in finding out the contact details of your prospect as well as helping you in getting leads from them.
9. Export your LinkedIn Connections
What could work better in finding someone's email address other than LinkedIn! Many people don't know this but LinkedIn allows the user to export its connections and get a good hold on their email address if you have a connection with your prospect's email address.
To export your LinkedIn connections, these are the steps that you have to follow:
Click on the "Me" section present at the very top of your LinkedIn homepage. After this, go with the settings & Privacy section from the dropdown.
Here, you'll get a Privacy tab which you have to click and scroll down to Getting a copy of your data tab.
Mark your connections box and click on "Request archive".
Within 10-15 minutes, you will receive the email addresses of all your LinkedIn connections in a spreadsheet format.
Add GrowMeOrganic to your toolkit
And finally, with the help of an automation tool, you can very easily and effectively find the email address of your prospect. When it comes to automation tools, you get several options among which you have to decide based on your requirements and affordability. And on both of these aspects, GrowMeOrganic runs brilliantly. To find the email address of your prospects, use GrowMeOrganic's email finder tool which will bring you the list of all the email addresses that you need in a form of CSV file format. Using GrowMeOrganic, you can collect the email addresses of your prospects with the help of the chrome extension. Follow these steps to collect the list:
Choose the appropriate keyword for the companies that you want and search through it on LinkedIn.
LinkedIn will filter out the results based on the keyboard that you chose at the start.
Then, click on the chrome extension to collect all the email addresses of those companies.
It'll create a CSV file format containing all the required data for you, which you can easily download.
Conclusion
Finding the right email address will help you in plenty of ways that you can use to upgrade your business and engage with the audience more effectively.
This also eliminates the chances of getting a bounce back and spoiling your market reputation, which is a big thing for those who indulge in email marketing through Gmail.
About Post Author