In this article, we'll look at how to extract unlimited emails from LinkedIn in Automation.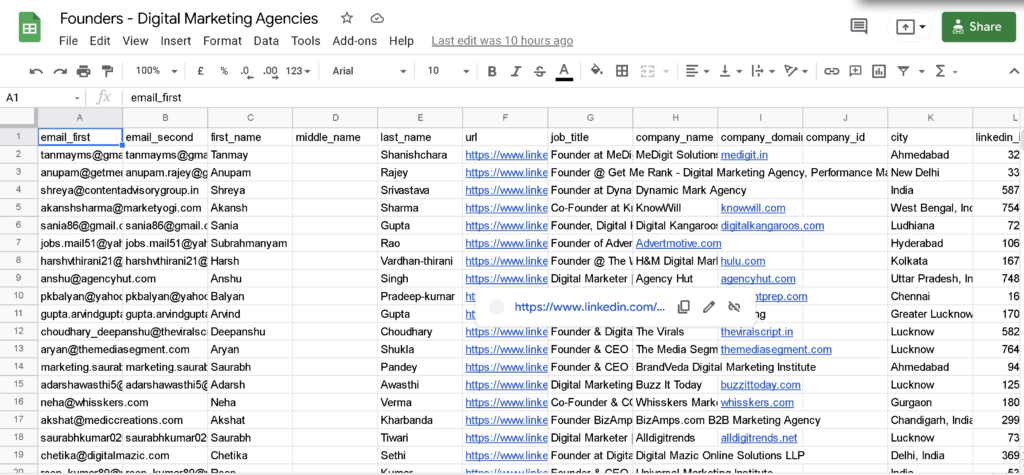 Whether you're looking for a client for your business, recruiting an employee or a business partnership, Industry targeted emails from LinkedIn can help you achieving your goal and maximizing the Return on Investment.
And, I will show you how to extract unlimited emails from LinkedIn Manually & In Automation
Extracting emails from LinkedIn [Manually]
Let me show you how do people manually extract emails from LinkedIn (Free)
And if you are a paid member of LinkedIn sales Navigator, then you can find the emails from LinkedIn like this.

Disclaimer: LinkedIn does have certain limits on daily profile visits. You may not be able to extract unlimited emails if you are using the manual method to collect these emails.
What is LinkedIn Email Extractor?
A LinkedIn Email Extractor can visit profiles and collect contact information (emails, website, job profile etc.) from LinkedIn search results on your behalf in Automation.
How does a LinkedIn Email Extractor Works?
Go to LinkedIn, and search for any desired keyword (e.g.- Founder of Digital Marketing Agency)
Expand the search results by clicking load more.
Now, you can filter these results based on their industry, job title, country etc. to tailor your search results.
And now start the LinkedIn email extractor to run in background.
LinkedIn email extractor will go through each pages of search results and extract all the emails from their LinkedIn profile.
[See Example] Extracted Emails from LinkedIn

Problem with other LinkedIn Email Extractor
There are several email extractor tools for LinkedIn in the market. But the problems with most of LinkedIn Email extractors are:
➤ Too complicated to use
➤ Not safe to use (LinkedIn might block your profile for using them)
➤ Extremely expensive ($200-$500 per month)
➤ Does have a credit limit on how much you can extract every month.
How to safely extract unlimited emails from Linkedin?
While there are thousands of other LinkedIn email extractors out there in the market, GrowMeOrganic makes the automation extremely safe by making replicating a human-like behaviour while scraping having letting you configure anything. (It's like plug and play)
You can watch a short 2-minute video that we have created on extracting emails from LinkedIn in Automation. [Unlimited & 100% Safe]
How to extract emails from LinkedIn – GrowMeOrganic
Other Email extractor who claims to be safe are extremely expensive. While GrowMeOrganic offers unlimited credits while extracting emails from LinkedIn, here's how pricing of other marketing leaders in LinkedIn automation looks like.
Extract emails from LinkedIn using GrowMeOrganic
To extract emails from LinkedIn, follow these steps:
Sign Up to GrowMeOrganic for FREE (In less than 30 seconds).
Download & Install GrowMeOrganic Chrome Extension
Search for your desired keyword on LinkedIn and expand the search results. (See example)
Now click "Emails Extractor" to start collecting the emails in automation