Want to extract unlimited emails from LinkedIn? Find out in this article
Whether you're a growth hacker, sales representative, founder or recruiter, LinkedIn is the best place to find your potential customer or to hire an employee. Now, either you can extract emails from LinkedIn manually or use a LinkedIn email extractor to scrape emails from LinkedIn in bulk.
You can't easily export these results to LinkedIn since it does not allow you to do so. The process of moving from LinkedIn to either a spreadsheet, CRM, cold email-sending tool, or cold email software is time-consuming. The reason many sales professionals ask about LinkedIn Sales Navigator extractors is that they want to export leads from LinkedIn Sales Navigator directly.
Fast data acquisition is critical for reaching out to a large number of prospects and generating business. The principles apply whether you are a business owner, salesperson, or member of a growth team.
What's the best way to get email addresses from LinkedIn?
In this article, we'll be going through some of the more effective ways to extract emails from LinkedIn in 2022
Extract an email from a LinkedIn profile
In order to extract emails from a LinkedIn profile, you'll have to install the GrowMeOrganic LinkedIn Email Finder chrome extension. Here's how you can extract email from a LinkedIn profile:
Sign up for GrowMeOrganic 14 days Free Trial
Download the chrome extension from the "Automate LinkedIn" tab in GrowMeOrganic
Install the extension in your chrome browser
Go to the LinkedIn profile of the user, whose contact details you're willing to extract
Use GrowMeOrganic chrome extension to extract the email address of that LinkedIn profile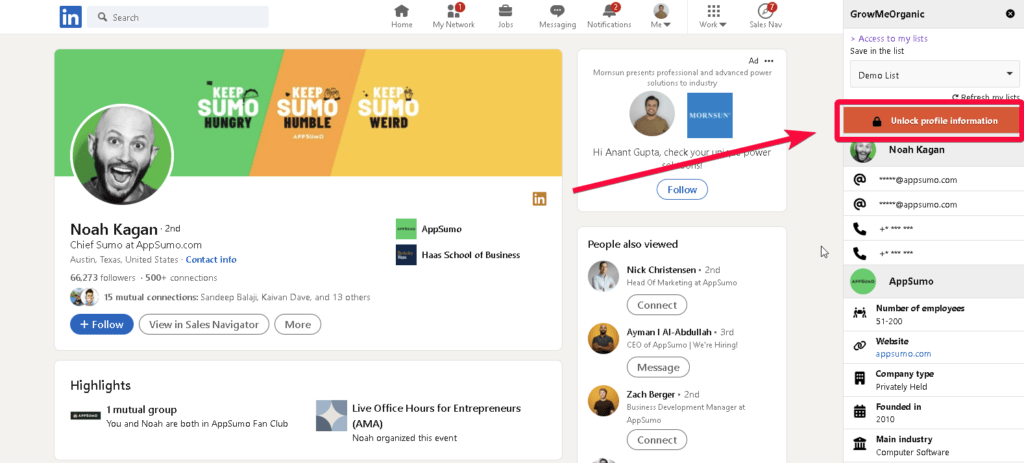 Using GrowMeOrganic you can not just extract the email address, but also the phone number of the prospect and save all the results in a list. Later, you can export the list of prospects in form of a CSV file or an Excel sheet.
Here's a video that will help you install GrowMeOrganic's chrome extension in your browser
Extract emails from LinkedIn in Bulk
1. Build an Ideal Client Profile of whom you're trying to collect emails (e.g., Chief Marketing officers in the United States).
2. Go to LinkedIn and search for the same keyword (Chief Marketing Officer).
3. To tailor your search results further, use LinkedIn Filters based on Keywords, Job, Location, Title, Company, Industry, etc.
Pro Tip: It's not compulsory to use LinkedIn Sales Navigator, but it may give you more advanced search filters also allowing you to target your company page followers or any LinkedIn Group.
4. After filtering the search results, use the GrowMeOrganic Linkedin Email Extractor chrome extension to crawl through all the pages of search results and collect emails from profiles. And the best part about the extension is that it does not visit any profile, making your automation extremely safe and reliable.
5. And you can download those emails in form of CSV, and XLS, or transfer them to GrowMeOrganic CRM.
And here's what the exported excel sheet looks like:
Verify emails extracted from LinkedIn
An email validation tool helps ensure the quality of your email list by checking if an address is deliverable and safe to use, as well as whether keeping it on your list will not harm it.
By using an email validation service, you can prevent bounces, but that's not all. There are other types of risky contacts that good email list cleaning services detect and weed out as well. You can use a lot of email validation tools like NeverBounce, and ZeroBounce.
Although there are tons of paid email verifiers, you can also Gmass Email Verifier tool to validate those emails for free
Using an integration of GrowMeOrganic with Gmass, you can validate the emails extracted from Linkedin completely free. Here's a video to explain how it works
The accuracy of email validation depends completely on Gmass.
Various other ways to extract emails from LinkedIn
In some rare cases, the LinkedIn email extractor won't be able to extract the email address. In that case, you can use a few manual strategies or other email finder tools being offered by GrowMeOrganic
1. Manually finding emails from a LinkedIn profile
To find someone's email from their LinkedIn profile, here are these two things that you need
Full Name (First & Last Name)
Website of their recent comapy (e.g. amazon.com)
A lot of companies typically use a combination of first name and last name to create the email id of their employee. You can try out different combinations of these emails and validate their deliverability using a tool like MailBoxLayer.
The most common email patterns being used by companies are:
firstnam@domain.com
firstname.lastname@domain.com
firstname_lastname@domain.com
firstnamelastname@domain.com
firsname.lastinitial@domain.com
firstinitial.lastname@domain.com
So, if someone's name is Anant Gupta, working at growmeorganic.com, then you can create multiple variants of the email just like that:
anant@growmeorganic.com
anant.gupta@growmeorganic.com
anant_gupta@growmeorganic.com
anantgupta@growmeorganic.com
anant.g@growmeorganic.com
a.gupta@growmeorganic.com
And then you can validate the deliverability of all of these email addresses to find the right email
2. Using Email Finder Tool by GrowMeOrganic
Email Finder by GrowMeOrganic can find the email of your potential prospect from their full name and domain. It tries out more than 40 different combinations of full name, last name and domain to find out the right email id.
You can also do this kind of search in bulk using uploading a CSV file that contains a list of first names, last names and domains.
Problems with other LinkedIn Email Extractor
There are several Linkedin email extractors in the market. But the problems with most LinkedIn Email extractors are:
➤ Too complicated to use
➤ Not safe to use (LinkedIn might block your profile for using them)
➤ Extremely expensive ($200-$500 per month)
➤ Does have a credit limit on how much you can extract every month
Other Email extractors who claim to be safe are extremely expensive. While GrowMeOrganic offers unlimited credits for extracting emails from LinkedIn and all other features, here's what the pricing of other marketing leaders in LinkedIn automation looks like:
How to Install LinkedIn email extractor
To install the GrowMeOrganic LinkedIn email extractor, follow these steps:
Sign Up to GrowMeOrganic for FREE (In less than 30 seconds)
Download & Install GrowMeOrganic Linkedin Email Extractor.
Search for your desired keyword on LinkedIn and expand the search results (See example)
Now click "Emails Extractor" to start collecting the emails in the automation.
What Kind of Data You Should Export From a LinkedIn Sales Navigator?
Sales Navigator allows you to export any data displayed on a lead's profile or company page. In this video below, covered most of the advanced filters on Sales Navigator that you might not have heard of.
In addition to the following, exportable data includes:
Lead's First and Last Name
URL of their profile
URL of their company
Title of their position
Address
Connection degree (1st, 2nd, or 3rd)
Business Industry
Employee count
The data available for export could be integrated into your CRM of choice. The LinkedIn Prospecting Tool does the work for you so you don't have to deal with spreadsheets manually.
Reach out to these prospects with a personalized email
In GrowMeOrganic, you get a platform to send an unlimited drip email campaign. I've written a detailed article explaining how popular email services like Mailchimp would be a bad idea to send cold emails to these prospects. Also, you can check out how GrowMeOrganic can save from landing in spam by warming up your email.
By the way, here's how you can use the placeholders to send extremely personalized emails, as you see below:
And this is how you can run unlimited drip campaigns (email with follow-ups based on conditions) or a cold email blast with GrowMeOrganic.
Conclusion
If you're looking to extract emails from LinkedIn to expand your B2B business or hire the right candidate for your company, GrowMeOrganic is the most affordable solution for finding and reaching out to the prospect within a single plan.
Not just that, but you also get access to the 30M+ Company database and 575M+ Verified Professional B2B emails in your Industry from across the world.
About Post Author