Linkedin email chrome extractors are the standalone software or Chrome extension that adds a button to the user interface when searching the results page on LinkedIn.
Are you aware that there are almost 740 million members and over 55 million registered companies on LinkedIn?
So, if you're looking for a client for your business, recruiting an employee then targeting emails from LinkedIn can help you to achieve your goal and maximize the Return on Investment.
That is why in this article we have mentioned about the best LinkedIn email extractor chrome software (GrowMeOrganic) to extract unlimited emails from LinkedIn.
Manually Email Extraction From Linkedin
Let's see how people extract emails manually from LinkedIn for free.
Also, every LinkedIn sales Navigator paid member can find the emails from LinkedIn like this.
Note- LinkedIn has certain limits on daily profile visits. Hence, you will not be able to extract unlimited emails if you are trying to extract emails manually.
Working of Linkedin Email Extractor
Open LinkedIn, and search for any keyword such as Founders of Marketing Agencies.
Click load more to expand search results.
Now, you will be able to filter these results in terms of industry, job title, country, etc. to precise your search results.
Start the LinkedIn email extractor so that it can run in the background.
Then LinkedIn email extractor will scroll through each page of search results and extract the emails from their respective LinkedIn profile.
For instance take a look at the below image,
Drawbacks of Other Linkedin Email Extractor
Let's go through the problems that you might face with the other Linkedin Email Extractors.
They are complicated to use.
Sometimes Linkedin can block your profiles if you use unsafe extractors.
Many extractors are extremely expensive, costing around $200-$500 per month.
They do have a credit limit and after that, you either have to upgrade or buy the premium versions to extract more emails every month.
Extract Unlimited Emails From Linkedin Safely
GrowMeOrganic is the safest tool in the market as it automates by replicating a human-like behavior and scraping without you configuring anything.

Also, other Email extractors are more in pricing with low monthly email extraction credits and limited users.
Linkedin Email Extractions With GrowMeOrganic
Let's go through the process to extract emails with GrowMeOrganic:
You can find an email address with other data from LinkedIn such as first and last name, location, company name, industry niche, company website, and address or their LinkedIn profile URL.
Sending Personalised Emails
In GrowMeOrganic, you can reach out to these prospects with a personalized email. You can send an unlimited drip email campaign. Also, GrowMeOrganic helps to send emails into your inbox rather than from landing in spam by warming up your email.
You can use a placeholder to send personalized emails as shown-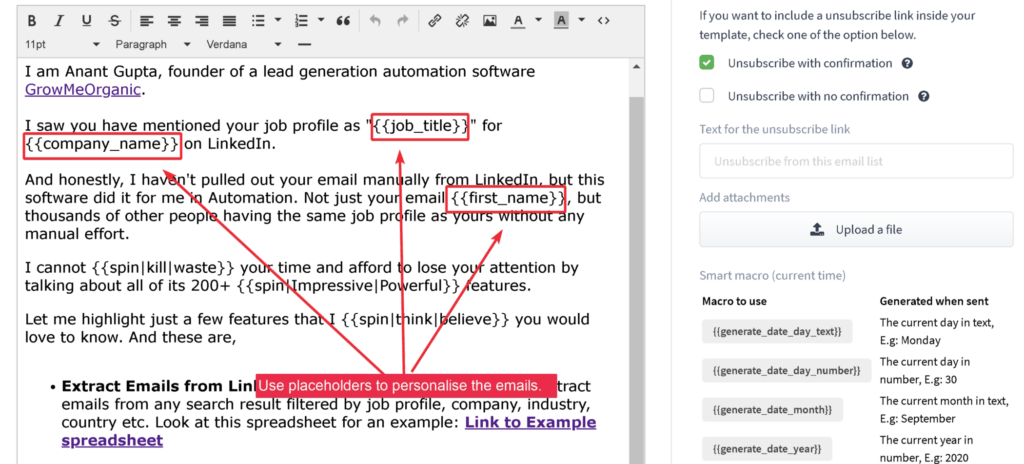 Conclusion
So, now you know the straight facts on how you can run unlimited drip campaigns with GrowMeOrganic. So, to expand your B2B business use GrowMeOrganic to find and reach out to the prospect within a single plan.
Retrieve thousands of email addresses every day from LinkedIn with just a single click. Furthermore, you can easily search for the email addresses of your 1st, 2nd, and 3rd+ Linkedin connections.
And this is not just it, you can even access a 30M+ Company database with 575M+ Verified Professional in your niche from across the globe.
So, start today and get all the obtained email addresses verified for FREE.