LinkedIn email Chrome extractors are standalone software or Chrome extensions that add a button to the user interface when searching the results page on LinkedIn.
Are you aware that there are almost 740 million members and over 55 million registered companies on LinkedIn?
So, if you're looking for a client for your business, or recruiting an employee, then targeting emails from LinkedIn can help you achieve your goal and maximize the return on investment.
That is why in this article we have mentioned the best LinkedIn email extractor Chrome software (GrowMeOrganic) to extract unlimited emails from LinkedIn.
Manually Email Extraction From LinkedIn
Let's see how people extract emails manually from LinkedIn for free.
Also, every LinkedIn sales Navigator paid member can find emails from LinkedIn like this.
Note- LinkedIn has certain limits on daily profile visits. Hence, you will not be able to extract unlimited emails if you are trying to extract emails manually.
Working on LinkedIn Email Extractor
Open LinkedIn, and search for any keyword such as Founders of Marketing Agencies.
Click load more to expand search results.
Now, you will be able to filter these results in terms of industry, job title, country, etc. to precise your search results.
Start the LinkedIn email extractor so that it can run in the background.
Then LinkedIn email extractor will scroll through each page of search results and extract the emails from their respective LinkedIn profile.
For instance, take a look at the below image,
The tool enables you to target your leads by searching for them based on their job title, company, industry, location, and more. With this information, you can then export the data into Excel or other formats. This makes it easy to quickly compile a comprehensive list of contacts and begin prospecting.
To make the process even easier, many LinkedIn Email Extractor tools have built-in features such as automated follow-up email and calendar integration. This way, you can stay on top of your leads and easily track your progress. The tool is also designed to be secure and easy to use.
With its advanced security mechanisms, your data is safe and secure. Furthermore, the user-friendly layout makes it simple to navigate while using.
No matter what your needs are, there's a Linkedin Email Extractor that can help you. With its powerful features and customizable options, you can quickly and easily find the contacts you need and start prospecting. And with its secure and user-friendly interface, you can rest assured that your data is safe and secure.
Benefits of Using LinkedIn Email Extractor Chrome Extension
✅ Easy-to-use: The most significant advantage of using a LinkedIn Email Extractor Chrome Extension is that it is incredibly easy to use. With just a few clicks, you can extract emails from LinkedIn profiles quickly and accurately.
✅ Automated email extraction: Another great benefit of using a LinkedIn Email Extractor Chrome Extension is that it can automate the process of email extraction. You no longer have to manually search through profiles and copy-paste emails into a spreadsheet. The extension will do all of the hard work for you.
✅ Accurate and reliable results: When you use a LinkedIn Email Extractor Chrome Extension, you can rest assured that the results will be accurate and reliable. The extension is designed to quickly and accurately extract emails from LinkedIn profiles, so you can be sure that you're getting the most up-to-date information.
✅ Save time and effort: Using a LinkedIn Email Extractor Chrome Extension can save you time and effort. Instead of manually searching through profiles and copy-pasting emails into a spreadsheet, the extension will do all of the hard work for you.
✅ Comprehensive information: The LinkedIn Email Extractor Chrome Extension can obtain a wide range of contact information from LinkedIn profiles. This includes names, emails, phone numbers, job titles, company names, and more. This makes it very easy to find the right contacts you need for your research or marketing efforts.
Drawbacks of Other LinkedIn Email Extractors
Let's go through the problems you might face with the other Linkedin Email Extractors.
❌ Accuracy: LinkedIn email extractors are not always 100% accurate. In some cases, incorrect emails are found or emails are found for the wrong person. This can lead to wasted time and effort, as well as a confused recipient on the other end.
❌Security Issues: Another issue with using LinkedIn email extractors is that they can pose a security risk. Extractors can be used to gain access to confidential information, such as passwords and other account credentials. This is why it's important to make sure that any extractors you use are secure and from a reputable source.
❌ Spam: Using a LinkedIn email extractor to acquire emails also opens up the possibility of spamming. This is especially true if the emails are not acquired with permission or used in a way that is not beneficial to the recipient.
❌ Inaccurate Searches: Finally, another drawback of using LinkedIn email extractors is that the searches can be inaccurate. For example, if you are searching for contacts in a specific job title, the extractors may not be able to accurately locate the right individuals. This can be especially problematic if you are trying to locate individuals working in a specific industry.
❌ Cost: Linkedin email extractors are not free, and the cost can add up quickly. Depending on the type of extractor you use and the number of emails you need to acquire, the cost can be significant. Many extractors are extremely expensive, costing around $200-$500 per month.
Extract Unlimited Emails From Linkedin Safely
GrowMeOrganic is the safest tool in the market as it automates by replicating human-like behavior and scraping without you configuring anything.
With GrowMeOrganic, you can quickly and efficiently search for the emails of your contacts, colleagues, or potential employers. It's easy to use and perfect for those who need to quickly find the right people to contact. With Growmeorganic, you can quickly and easily find the emails of the people you need without any hassle.
The GrowMeOrganic Chrome extension is designed to make the process of finding emails fast, simple, and efficient – helping you stay ahead of the competition and make the most of your LinkedIn experience.
Also, other Email extractors are more in pricing with low monthly email extraction credits and limited users.
Linkedin Email Extractions With GrowMeOrganic
Let's go through the process to extract emails with GrowMeOrganic:
You can find an email address with other data from LinkedIn such as first and last name, location, company name, industry niche, company website, and address or their LinkedIn profile URL.
If you want to extract emails from Sales Navigator, you can further add more filters to do a very targeted search for your prospects.
Sending Personalised Emails
In GrowMeOrganic, you can reach out to these prospects with a personalized email. You can send an unlimited drip email campaign. Also, GrowMeOrganic helps to send emails into your inbox rather than landing in spam by warming up your email.
You can use a placeholder to send personalized emails as shown-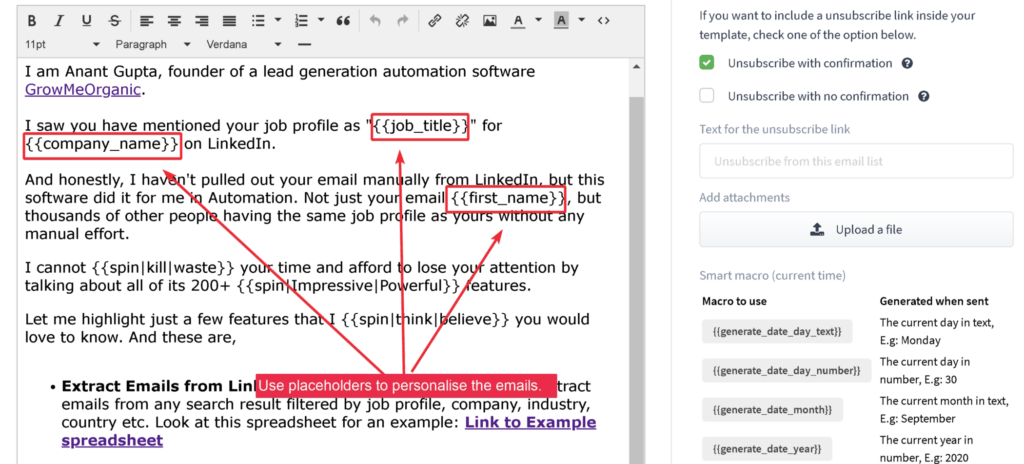 You can easily personalize by customer segments, allowing you to send targeted emails that are more likely to drive engagement. You can include their name, location, interests, and other personal information in the emails. You can also segment your customers into different categories and send them content that is more relevant to them.
GrowMeOrganic also makes it easy to send follow-up emails to customers. You can use advanced automation features to send out automated follow-up emails that are tailored to the customer. These emails can remind customers of their previous orders, offer discounts for repeat purchases, and encourage them to buy again.
For example, you can send emails to customers who have clicked on a link in a previous email or who have abandoned their shopping cart. This helps to keep your customers engaged and encourages them to take action.
GrowMeOrganic makes it easy to create and send personalized emails. With the drag-and-drop email editor, you can quickly create emails with customized templates and images. You can also track how many customers have opened and interacted with your emails, so you can measure the success of your campaigns.
If you want to know more about personalizing cold emails to increase your ROI, here is a tutorial video for you.
Conclusion
So, now you know the straight facts on how you can run unlimited drip campaigns with GrowMeOrganic. So, to expand your B2B business use GrowMeOrganic to find and reach out to the prospect within a single plan.
Retrieve thousands of email addresses every day from LinkedIn with just a single click. Furthermore, you can easily search for the email addresses of your 1st, 2nd, and 3rd+ LinkedIn connections.
And this is not just it, you can even access a 30M+ Company database with 575M+ Verified Professionals in your niche from across the globe.
So, start today and get all the obtained email addresses verified for FREE.
Frequently Asked Questions:-
What is a LinkedIn email extractor, and how does it work?
A LinkedIn email extractor is a tool or software that allows you to extract email addresses from LinkedIn profiles. It works by using automated scripts that scan through public LinkedIn profiles and collect email addresses associated with those profiles.
This can save you the time and effort it takes to manually search for and gather contact information from LinkedIn.
Why should I consider using a LinkedIn email extractor for my business or recruitment needs?
Using a LinkedIn email extractor can significantly benefit your business or recruitment efforts in several ways. Firstly, it enables you to build a targeted and comprehensive email list of potential leads or candidates from LinkedIn. This can help you reach out to a specific audience or industry professionals who may be interested in your products, services, or job opportunities.
Additionally, LinkedIn email extractors can save you a tremendous amount of time and effort by automating the process of collecting contact information. Instead of manually searching for and recording email addresses, you can streamline the entire process and focus on more important tasks.
Can I send personalized emails to the extracted contacts using GrowMeOrganic?
Yes, GrowMeOrganic allows you to send personalized emails to the contacts you extract from LinkedIn. The tool integrates with popular email marketing platforms, such as Mailchimp or Gmail, enabling you to easily create and send personalized email campaigns to your extracted contacts.
Personalized emails have a higher chance of attracting attention and generating a positive response from your recipients.
Can I automate follow-up emails and track customer engagement with GrowMeOrganic?
Absolutely! GrowMeOrganic offers automation features that allow you to schedule and send automated follow-up emails to your extracted contacts. This helps you stay engaged with your prospects and nurture relationships without manually sending each follow-up email.
Additionally, the tool provides analytics and tracking capabilities to monitor the engagement of your email campaigns. You can track metrics such as email open rates, click-through rates, and conversions, providing valuable insights into the effectiveness of your outreach efforts.
About Post Author