Social selling is the right way to introduce new touchpoints, intent signals, and prospect data, especially if you are seeking to learn how to extract emails from LinkedIn groups.
But apart from connection requests and comments with value props, you can extract emails from LinkedIn groups for outreach. This is done with the help of web scraping tools. These tools scrape targeted emails from Linkedin Groups with no time and coding.
LinkedIn groups help in learning from other sales reps and connect with prospects organically. This way You can scrape groups with millions of members in them.
Let's dive into the article and see how to extract emails from Linkedin Groups.
What are LinkedIn Groups?
LinkedIn groups help sales professionals connect on the network with similar industries where they can share their knowledge, and experience, ask for guidance, and build valuable connections.
In LinkedIn groups, you can join conversations, find answers, and send message requests to other group members.
Sales reps mostly join LinkedIn groups to interact with their leads more organically. Though it takes time, sharing industry content and learning about the persona they are selling helps to build a community around their product or service.
How to Find Linkedin Groups?
You can join groups by searching at the top of your homepage or viewing the groups you've already joined. You can create a new group that will focus on a specific industry or topic.
So, prepare a long list of groups to join in your prospecting target audience. Make use of the right keywords and narrow them down into the most promising groups. 
Strategies for Searching Right Linkedin Group
Initially, connect to one or two sales-related LinkedIn groups. These groups will help in learning and understanding them. 
Then narrow down your search into a handful of groups around the industry you are selling into. Try to engage with these groups instead of just selling to them. For example, if you're selling equipment, connect the equipment group and the equipment network group. 
As these groups are not for direct selling, share and engage through the content within the group. This will enhance your knowledge and set you up for better responses for the industry.
Three Important Steps To Extract Emails From Linkedin Groups
Now instead of sending so many connection requests, InMail messages, and comment replies, you can extract emails from LinkedIn groups in just three steps.
Step 1: Search and Involve in the right groups
To avoid your emails looking like spam, it is highly recommended to export emails from LinkedIn groups.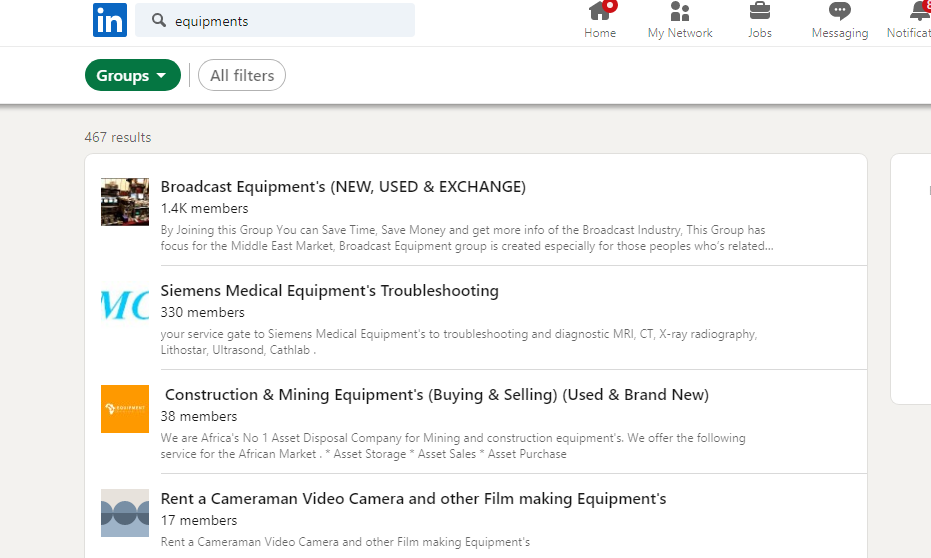 Start with some LinkedIn groups that match your buyer persona. Then spend some time and involve yourself in the group discussions such as sharing your content, responding to posts, and asking them questions. This will give you a tentative idea of how to proceed further.
Step 2: Retrieve Group Members on LinkedIn Sales Navigator
Linkedin Sales Navigator is the most powerful sales prospecting tool. It allows advanced search of 1000 prospects with like 20 InMail credits per month.
So, instead of manually sending connection requests, you can just use the sales navigator to add group members to your lead list. 
Go to the search box in the sales navigator.
Then, select "View all filters" from the bottom of the Filters column present on the left.
Then go to the "Groups" filter. Fill in the name of your group, and you will have a list of every member in that group. 
You can further narrow your list by filtering based on role, company, geography, and interests. 
If you don't have a LinkedIn Sales Navigator account or never had one, then you can get a free monthly trial after signing up. Or check out this list of the top 10 LinkedIn email extractor tools of 2022 by GrowMeOrganic.
Step 3: How to Export Emails from LinkedIn Groups with GrowMeOrganic
Once you are done searching the groups, you can use GrowMeOrganic to export emails from the group members that you want to reach out to.
After you Install GrowMeOrganic Chrome Extension and Sign Up for a FREE GrowMeOrganic account, you can search for your keyword on LinkedIn. Then clicking on the email extractor starts collecting the emails.
Proceed Carefully
Linkedin groups are more effective if you know how to "personalize" your very first cold email. So, if you join a group with 10,000 members don't send emails to spam every single member.
You should use the group as a filter in your Sales Nav search. Then narrow down further and personalize your email based on the prospect's experience and the content that they share.
After all, participation in groups helps in warming up your leads. If you're ready to take sales beyond email, sign up GrowMeOrganic for a spin.
About Post Author