Introduction
If you're like most people, you probably use Google products like Gmail, Calendar, and Drive every day. But did you know that there's an even better way to use Google's robust suite of products? It's called Google Workspace, designed for businesses and professionals.
A Google Workspace account is a professional account that you can use to access a variety of Google products, including Gmail, Drive, and Calendar. You can use a Google Workspace account to stay connected with colleagues, clients, and customers.
Google Workspace is a collection of productivity and collaboration tools that includes everything you need to get work done, both online and offline. It has all the familiar Google products, like Gmail, Calendar, and Drive, as well as new tools like Jamboard, Meet, and Chat. And it's all integrated into a single, easy-to-use interface.
The benefits of using Google Workspace are as follows:
Access to all the latest features and updates: With Google Workspace, you always have access to the latest features and updates for all your favorite Google products.
Increased productivity: With Google Workspace tools, businesses can communicate and collaborate more effectively, which can lead to increased productivity.
Improved communication: Google Workspace tools can help businesses improve communication by making it easier to share documents, calendars, and more.
One place for all your work: With Google Workspace, everything you need for work is in one place. So you can easily find what you're looking for, whether it's an email, a document, or a calendar event.
Seamless collaboration: Google Workspace makes it easy to collaborate with others, whether you're working on a project together or just need to share a document. With powerful tools like Jamboard, Meet, and Chat, you can work together in real-time, no matter where you are.
Increased security: Google Workspace comes with built-in security features, like two-step verification and data loss prevention, to help keep your data safe.
If you're looking for a way to improve your productivity and collaboration, Google Workspace is a great option. It's easy to use and comes with all the features you need to get work done.
In this article, we'll see how to set up a Google Workspace account in GrowMeOrganic. If you don't have a google workspace account, refer to the video below
You may skip the above step if you already have a g-suite/Google Workspace account.
Let's connect your Google Workspace account with GrowMeOrganic
Step 1: Enable IMAP to track and read incoming replies
Make sure to log in to your Google Workspace account
Open Gmail app
Click the gear icon in the top right corner
Click All Settings
Click the Forwarding and POP/IMAP tab
In the "IMAP Access" section, select Enable IMAP
7. MOST IMPORTANT: Click Save Changes
Step 2: Allow Google Workspace Users to Turn on 2-Step Verification with your Admin account
Go to admin.google.com (be logged into the administrator)
In the search bar type "2-step verification"
Check on the box "Allow users to turn on 2-Step Verification"
Step 3: Enable 2-Step Verification
Go to https://myaccount.google.com/security in the security section
Scroll to the "Signing in to Google" section
Click on "2-Step Verification" and turn it on
You MUST have 2-Step Verification to make an app password.
Step 4: Create an App Password
In https://myaccount.google.com/security (after you've turned on 2-Step Verification), in the security side-bar section, scroll back to "Signing in to Google"
Click "App passwords"
Under the "Select app" section select "Mail"
Under the "Select Device" section select "Other (custom name)" and write GrowMeOrganic
Click "Generate"
You'll now get an app password that looks like this:
Step 5: Connect your Google Workspace Account with GrowMeOrganic
1. log in to your GrowMeOrganic dashboard.
2. Go to CRM > Senders (SMTP) > Connect an SMTP (sender)
3. You'll see a new pop-up. Enter your Gmail account credential (scroll down to fill in the complete form)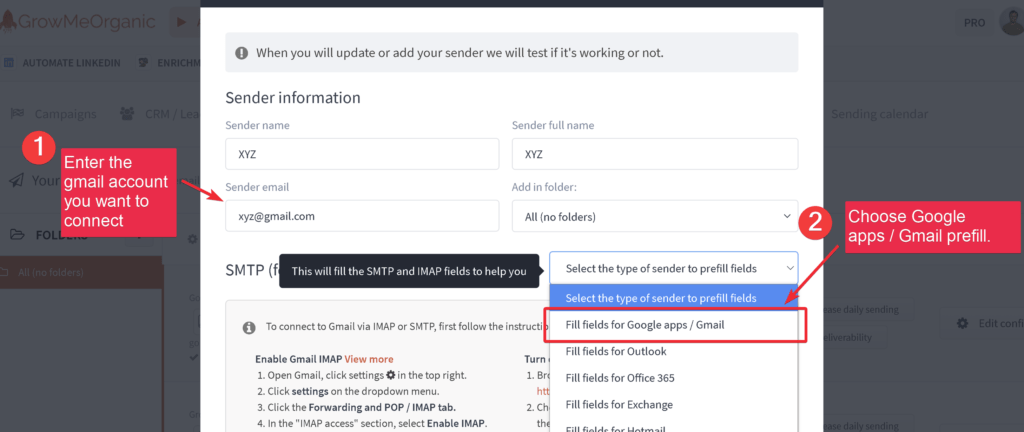 Conclusion
Regarding email hosting and providing an all-in-one solution for document collaboration and storage, Google Workspace can be a great solution for any business. It is extremely inexpensive and straightforward to use. Most of your employees are likely already familiar with Gmail, reducing the time required to learn new tools.
With a Google Workspace account, you can send 2,000 emails per day, but first, make sure to warm up your email if it is a new domain. To send more emails, you can create multiple Gmail/Google Workspace accounts or use services like Amazon SES (incredibly cheap) to send many emails.
About Post Author