LinkedIn is a social media platform that helps to connect professionals. Individuals can share their work experience with the world, join industry groups, and search and apply for jobs.
Linkedin generates opportunities for the global workforce and provides employers with endless opportunities to find perfect candidates.
LinkedIn helps businesses to recruit employees in many ways, depending upon the service they subscribe to.
That is why in this article you will find some strategies to find the best employee for you and your company regardless of which LinkedIn plan you subscribe to.
LinkedIn's Free Plan to Find Your Potential Candidate
Let's go through some strategies that you should take to find your ideal candidate on Linkedin.
Building Profile Page
The first step before reaching out to anyone is to first create your own company's profile page. This will present a professional side of your business and will create an interest in the potential candidates. Moreover, by building a profile it becomes easier for candidates to find you.
Keep on updating from time to time if you make some changes in your business such as business location, job postings, and contact information.
Invitation Personalization
You should always send an invitation to connect with former and current colleagues. As LinkedIn relies on connections, grow your network by finding new employees. With these connections, you have already developed a positive relationship so they can introduce you to job seekers they know easily.
For that, personalize your invitation as LinkedIn allows you to use up to 300-characters in your connection invitation request. That is why always personalize your invite as it increases the chances of you getting accepted.
Use Keywords To Search Candidates
You can find the right candidates easily on Linkedin. Even the candidates can reach out to you as in LinkedIn one can choose yes on the job-seeking option under the open to button on the main profile page. This tells recruiters that they're open to a new job.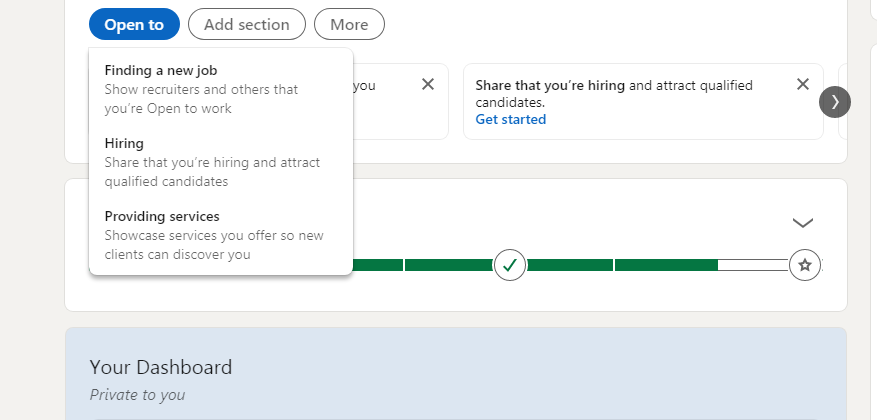 It is estimated that 51% of people are passive job candidates. This means they may want a new job, but they haven't started looking for it yet.
So, once you see a potential candidate do check their profile and see if you have any common connections with them. If yes then reach out to them and ask for their introduction.
This will help to get in contact with the candidate and a common connection can validate your business' reputation.
You can also search candidates by skills, job titles, previous employers, or other keywords that the candidate may have in their profile.
Find Candidates Through Linkedin Groups
The best potential candidates such as a project manager, an HR rep, or a marketing professional are likely active members within their relevant industry groups.
With LinkedIn groups, you can find thought leaders, available workers, and people who can help you network with your next employee.
For instance, if you're looking for an IT expert, discover a group in the search box with keywords Software and Technology Professionals. So, you just have to simply type the keyword and select the group as shown below.
Ask Your Current Employees To Advocate
You should always ask your employees to activate their current networks. They can post positive reviews about you and your company on their profiles.
According to Glassdoor research, prospective employees are more likely to believe people who work in your company than you. This way you can also promote your company on LinkedIn.
LinkedIn is a great place for employees to share their positive feedback and this can be a difference-maker in your business's ability to attract top talent.
Upgrade Your Recruitment with LinkedIn Premium
LinkedIn has many subscription plans. Opting for LinkedIn Premium offers some valuable features such as InMail.
InMail is LinkedIn's email tool through which you can send messages to users that they're aren't connected with.
For instance, if you've found a candidate that you'd like to continue with but you don't share a connection with, then you can use InMail to reach out to them.
Although LinkedIn Recruiter is an additional service provided by Linkedin to hire new employees. For small businesses, LinkedIn Premium is mostly preferred as the cost is relatively affordable.
Use LinkedIn InMails For Recruiting
LinkedIn's InMail lets you connect with someone through the site without mentioning your email address. The LinkedIn Premium account gives you 15 InMails per month as compared to an Executive account with 30.
Follow the tips to make your LinkedIn InMails look more effective –
Personalize your message by sharing how their skills match your job.
Relate your purpose for contacting the person.
Mention the recipient a reason to reply to you preferably outside Linkedin such as phone, website link, or work email.
Follow up with a connection request.
Check Who's Viewed your Profile
You can check who viewed your profile from your profile dashboard on LinkedIn. This helps to identify people who are looking for your business or your profile. You can send them an invitation using LinkedIn InMail to introduce your business and any available positions.
Check Business Insights
Business insights help you choose companies you want to recruit from. Sometimes companies are laying off the kinds of employees you need to hire. So, looking at business insights will help you choose what to change in your own company.
Check Job Insights And Browse Potential Candidates
Job insights will help job seekers to check out your job postings and your company. Make sure your posts on LinkedIn depict your company as a great place to work.
You can also browse profiles of individuals you like to hire. You just have to invite anyone to connect up to a 3rd-degree connection. Also, send InMails to those you're not connected with.
Set Open Profile
Always make sure to set your Linkedin Premium account to 'open profile'. This allows job seekers to connect with you without using their LinkedIn InMail credits.
Also with an open profile, you can view anyone's profile and even connect with people, like job seekers.
LinkedIn Recruiter
If you have a larger budget and you are planning to do bulk hiring, then LinkedIn Recruiter is the best option. It's a kind of LinkedIn Talent Solutions that includes Job Slots and Paid Job Ads.
For instance, if you are planning to recruit more than say 100 new hires a year then Linkedin Recruiter will be suitable for you.
About Post Author