There are other talent intelligence software options besides SeekOut.
Look into other competitive choices.
Many people are looking for safe, simple-to-manage software solutions with interview scheduling because talent intelligence software is a frequently used technology.
Email campaigns and emails are other crucial considerations when looking at SeekOut alternatives.
We have developed a list of products, including Hire EZ, Eightfold AI, Gem, and Entelo, that reviewers deemed the most satisfactory overall rivals and SeekOut alternatives.
GrowMeOrganic offers one of the premier LinkedIn email finder chrome extensions that can be a Chrome LinkedIn email finder add-on. With this add-on, you can extract email, telephone numbers, industry websites, job titles, and other data from LinkedIn with one click.
It is first-rate, clean, and 100% secure to apply with LinkedIn. Even with limitless search credit, GrowMeOrganic guarantees that you may seek and export as many authentic emails as you need from LinkedIn.
Compare GrowMeOrganic with different famous LinkedIn Email Finders: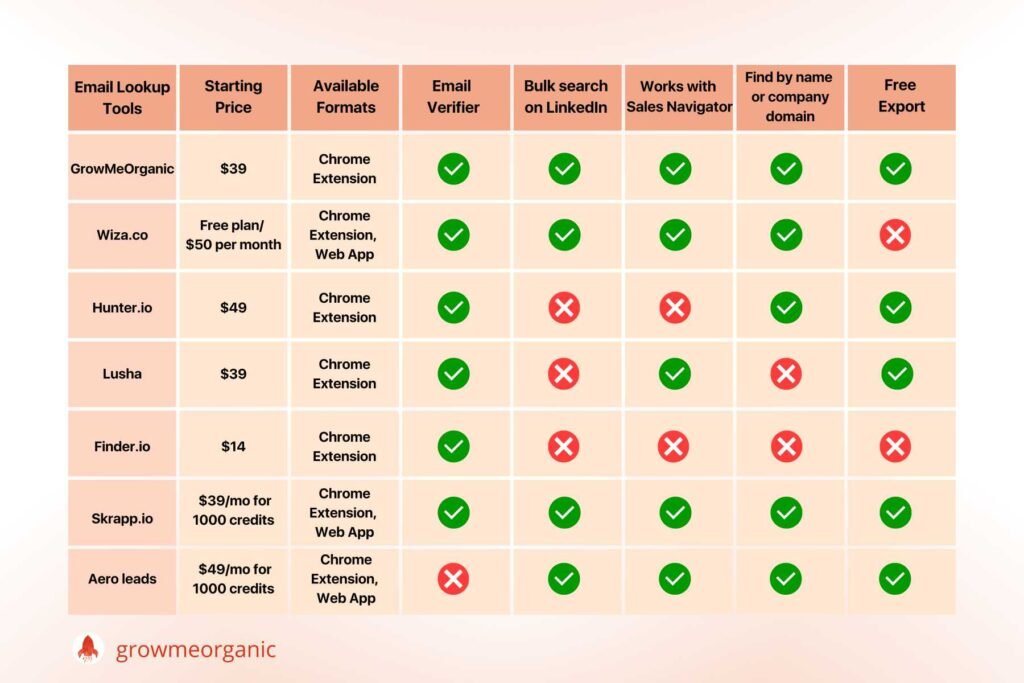 Features include:
Unlimited search and export credits, no strings attached.
Single-click on bulk export LinkedIn email finder chrome extension
human-like conduct and quality exercise implementation
It provides detailed company information on thousands of companies, including the number of employees, industries, and search features.
offers cold email response services, email list acquisition, and knowledge base and tutorial videos.
An automated call for support Virtual Assistant Support Services
Schedule a demo call with the team.
| | | | |
| --- | --- | --- | --- |
| FEATURES | Starter | Growth | Pro |
| Users Allowed | 1 | 5 | Unlimited |
| Contact exports/month | 2k | Unlimited | Unlimited |
| Search/Month | 15M+ Company search 575M+ People search | 15M+ Company search 575M+ People search | 15M+ Company search 575M+ People search |
| Emails sent/month | 5k | Unlimited | Unlimited |
| Pricing/Month | $39 | $79 | $159 |
| Images, Attachments & Link Tracking | ✔ | ✔ | ✔ |
| Prospects/month | Connect with 200 | Unlimited | Unlimited |
HireEZ
An AI-powered outbound recruitment platform called Hiretual (formerly called hire EZ) centralizes all hiring activities for hiring teams of all sizes, making outbound recruiting simple.
Take advantage of AI Sourcing, which is quick and easy across 45+ platforms and 800+ million open online profiles.
Create individualized recruitment efforts by automating the process and using templates, sequences, tracking, and calendar scheduling.
Utilize our talent data cloud to achieve higher quality by centralizing, updating, and rediscovering previously siloed data with nearly zero management and a secure data hub.
Visit Hireez for more details.
EightFold AI
The People Intelligence Platform from Eightfold AI is the most efficient approach for employers to keep top performers, upskill and reskill the workforce, efficiently hire top talent, and achieve diversity goals.
The deep learning artificial intelligence platform from Eightfold AI enables businesses to use talent management as a strategic advantage. Eightfold demonstrates the other competent talent already employed throughout the organization while also understanding the talent pool and where the pipeline bottlenecks are.
Your business executives and hiring managers strengthen your relationship and your capacity to communicate market concerns.
Because your recruiters are more assured and knowledgeable about pipeline talent, they can spend less time and make better decisions.
You can learn more by visiting www.eightfold.ai.
Gem
Gem's Talent Engagement Platform assists recruitment teams in using data and automation to more fully engage candidates, create diverse pipelines of the highest caliber, and make predictable hires at any scale.
Gem creates a single source of truth for all talent interactions by combining context and data from the technologies recruiters use daily, such as email, applicant tracking systems, LinkedIn, and other social networks.
TA teams can proactively and strategically plan for the future when they have insights into the hiring process, automation to reach out to talent at scale, and actual cross-functional collaboration capabilities.
Gem's clients are competent recruitment teams from market leaders like Dropbox, Grammarly, Doordash, Cisco, and Mcdonald's. They know that retaining their competitive advantage depends on employing the most incredible talent available.
Entelo
Creating content and landing sites, sending emails, nurturing applicants, and effectively marketing opportunities on social media are all necessary components of today's candidate journeys. While having the appropriate names and technologies might sometimes increase success, recruiters are not marketers.
Entelo offers best-in-class managed services and accurate source-to-hire automation technologies for a platform that focuses on results rather than AI.
Don't limit yourself to tools. Other approaches only get you partially there. Entelo is the only pre-application platform on the market that removes obstacles and speeds up the entire pre-application procedure. We'll aid in the search for the best applicants and the entrance of those candidates.
Welcome to the era of agile recruitment, when people drive hiring.

Hired
Hiring is the most effective method for filling tech and sales positions. To match thousands of active and qualified individuals with over 10,000 employers worldwide, Hired uses unbiased insights, DEI tools, skill evaluations, and committed Customer Success Managers. Employers save an average of 45 sourcing hours per role with the Hired solutions package thanks to superior data, customized matches, and higher acceptance rates.
Hired, supported by The Adecco Group, is recognized by G2 as a pioneer in diversity recruiting, job search websites, and recruiting automation. Hired is dedicated to eradicating unconscious bias in the hiring process through a more diverse talent pool and bias-reduction tools, personalized tests, and salary bias alerts.
Zoho Recruit
A method for tracking applicants called Zoho Recruit helps recruiters overcome various difficulties.
Zoho Recruit assists you in finding, tracking, and hiring the top prospects without the need to switch between various media. It offers comprehensive solutions for both in-house recruiters and employment agencies.
Create a unique workday by automating email sending, interview status updating, and more.
Plan better hiring tactics by having reports and statistics at your fingertips.
SmartRecruit
High-performance firms use SmartRecruiters' Talent Acquisition Suite to find the best recruits.
It is based on a cutting-edge cloud platform with an open marketplace for third-party recruitment services, and it has full capabilities for recruitment marketing and collaborative hiring.
SmartRecruiters offers a fantastic candidate experience, hiring managers want to use the product, and recruiters adore us because we make their work easier, unlike the first-generation application tracking systems it replaces.
Employing SmartRecruiters gives businesses like Visa, Skechers, LinkedIn, Equinox, and McDonald's a competitive edge in hiring.
GreenHouse
Greenhouse offers a comprehensive solution to assist businesses in hiring for the future.
Numerous top firms, like Cisco Meraki, Booking.com, and Pinterest, use Greenhouse, the hiring platform with the fastest growth in the market, to design and automate their hiring processes.
Greenhouse Recruiting's products encourage great candidate experiences at all contact points, reduce administrative work, and maintain team engagement.
Additionally, Greenhouse is the industry leader in diversity, equality, and inclusion (DE&I) solutions, which assist in reducing bias and establishing equitable recruiting practices.
Greenhouse frees you from the haphazard and "one size fits all" hiring methods of other systems, allowing you to create excellent hiring plans for every position that are customized for each member of the hiring team and to set up the platform to your liking.
CEIPAL ATS
An Applicant Tracking System (ATS) called CEIPAL ATS helps staffing and recruiting organizations automate their operations and close more placements more quickly. It is fully scalable and interconnected.
With more than 2,000 clients in the Staffing & Recruiting sector, CEIPAL is setting the standard for successful staffing through the mix of cutting-edge technology & outstanding VFM (Value for Money) offerings.
Job requisition, job posting, applicant sourcing, screening, and selection, e-boarding, social media integration analytics, CRM, mobile device functionality, job board & VMS integrations, email integrations, and plugins are some of the key features.
GroveHR
Grove HR is a brand-new HRIS platform created to motivate and involve the younger generation in the workplace.
Grove HR supports HR in embracing the future of agile, mobile, and social HR, enabling businesses to succeed in the Future of Work.
Streamline core HR operations with AGILE HR and give employees the freedom to create and manage their HR.
Give contemporary employees an incredible mobile-native experience with MOBILE HR.
Social hr: Give workers a digital area where they may interact and connect genuinely.
Starting is entirely cost-free. Best For: Rapidly expanding companies looking for a means to relieve HR of laborious and time-consuming tasks while inspiring, involving, and developing staff daily.
About Post Author