Most B2B companies look for result-oriented email marketing techniques to find B2B emails or achieve their lead generation targets. Email outreach through email marketing campaigns is the best scalable method that delivers one of the highest ROIs across B2B channels.
But you need to find emails from leads through email finder tools such as GrowMeOrganic to build a campaign that can process tons of emails at an unimaginable rate with min 95% delivery.
Email leads are the people who share their contact information by filling up a contact form in exchange for a lead magnet (gift).
Then these email leads you can nurture through permission by marketing into a loyal set of customers.
That is why in this article, you will learn how to find B2B emails for campaign and lead generation in GrowMeOrganic. 
Email Finder Tool
GrowMeOrganic can programmatically identify emails using information like the person's name, company, and website. It uses existing data and pattern-cracking algorithms to find emails with relatively high accuracy.
If the email is not found from its existing data, then it would guess the email by other employees' email format and use MX verification to see if this is a valid email.
With GrowMeOrganic bulk email finder, you can find bulk email addresses with one click. Just submit the list of prospect names and their company.
Find Linkedin Prospects Email
One of the powerful features of GrowMeOrganic is to help in exporting unlimited contacts. The unlimited contact is retrieved from the potential customer from LinkedIn search results.
For this search the respective keyword in the search box such as head of marketing.
Filter these search results based on designation, job title, location, country, name, etc.
Connect with your leads in automation with a personalized message.
Also, you'll be able to download them in the form of CSV through the dashboard.
These emails are pre-scraped and are extremely active and laser targeted.
You can also find emails & LinkedIn profiles of all the leads from any website with GrowMeOrganic extension.
Google My Business
Google My Business feature allows businesses to add services menus to their profiles. It is important for lead generation and SEO as your business won't be appearing on any local map listings in the search engine results page (SERPs).
You can export B2C business contacts listed on Google My Businesses from anywhere in the world. It is easy to find local businesses information directly from Google Maps by targeting any city, keyword, and country.
It is a FREE local lead generation tool that helps in driving traffic to your website. Your customers can add reviews or see what others have to say about your service.
Find Prospects From 30M+ Database
GrowMeOranic has a huge database of emails with 30M+ Companies, 575M+ verified professional B2B emails to find, sort, and reach your ideal prospects.
This database is regularly updated based on user searches. You can access the database of companies from any Industry & country. You will be able to know the company name, industry, LinkedIn page, company website, size, and country of the company.
Moreover, you can find emails of all the employees using employee email finder within the same platform.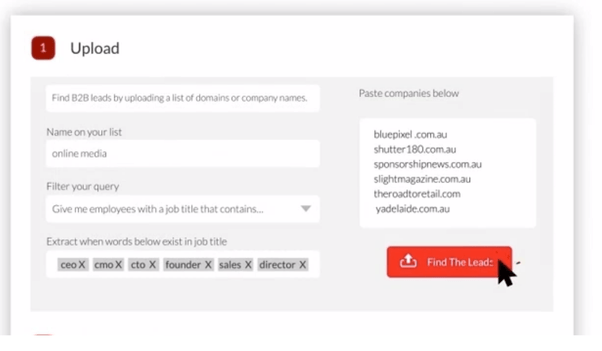 Convert Companies Name To Website
If you have collected a list of company names in some niche from Wikipedia or other directories, you can find their website.
I've already shown you how to turn a company domain list into an email list of employees. So once you have their domain, you can find their employees' email.
About Post Author