Are you looking for the best B2B prospecting tool to help grow your business in 2023? Look no further! We've got the top solutions for all of your needs, from small businesses to enterprise-level organizations. Find out which tool is right for you and get ready to take your business to the next level.
Business-to-business (B2B) prospecting is the process of identifying potential customers and engaging with them in order to grow your business. It involves researching potential prospects, analyzing their needs, and building relationships with them in order to secure sales. B2B prospecting is a critical part of any successful sales strategy, as it helps companies find new opportunities and increase their revenue.
In today's digital world, there are a variety of tools available to help you with your B2B prospecting efforts. These tools range from simple research tools to more sophisticated solutions that automate the entire process. They can help you identify potential prospects, analyze their needs, and engage with them in an effective and efficient manner.
In this blog post, we'll discuss what a B2B prospecting tool is, the benefits of using one, as well as the factors to consider when choosing a tool for your business. We'll also take a look at five of the top tools for 2023 and provide some tips and tricks for effective B2B prospecting in 2023.
What Is a B2B Prospecting Tool?
A B2B prospecting tool is a software solution designed to help sales teams identify and connect with potential customers. These tools provide a variety of functions such as lead generation, contact discovery, email automation, and more. By leveraging the power of automation, these tools can help sales reps quickly identify the best prospects and save time in the process.
Tools vary in terms of features, pricing, and other factors, so it's important to do your research before choosing a solution that works best for you and your team. The most popular B2B prospecting tools are GrowMeOrganic, Cognism, Easyleadz, SignalHire, HubSpot, and FindThatLead. Each tool offers unique features and capabilities that can help you find and target the right prospects for your business.
Benefits of Using a B2B Prospecting Tool
In this digital age, the process of B2B prospecting has become more efficient and less time-consuming. Using a B2B prospecting tool can provide numerous benefits to businesses, such as:
✅ Improved accuracy and reliability:-
With the help of a B2B prospecting tool, companies can be sure that they are targeting the right prospects with the right information. This can help to significantly reduce the time and effort needed to reach out to ideal customers.
✅ Automation:-
By using a B2B prospecting tool, many of the manual processes associated with prospecting can be automated. This can help to free up valuable time and resources that can be used elsewhere in your business.
✅ Streamlined processes:-
B2B prospecting tools can help to streamline processes, such as lead generation. This can help to make it easier to find new leads and prospects quickly and efficiently.
✅ Increased visibility:-
With a B2B prospecting tool, companies can get a better view of their target audience and their behavior. This can help to gain insights and make informed decisions about how best to reach out to ideal customers.
✅ Cost savings:-
By investing in a B2B prospecting tool, companies can save money by reducing their need for manual labor and other resources associated with prospecting.
Using a B2B prospecting tool can provide numerous benefits to businesses and can help them to reduce costs while increasing accuracy and visibility.
Factors to Consider When Choosing a B2B Prospecting Software
When it comes to choosing the right B2B prospecting tool for your business, there are several factors you'll need to consider. These factors include:
1. Features – The features of a prospecting tool will determine how effective it can be in helping you uncover new leads and prospects. Look for tools that offer features such as automated lead generation, detailed analytics, contact data enrichment, and email tracking.
2. Cost – Make sure you compare the costs of the different tools available before making a decision. Be sure to factor in any additional expenses you may incur such as data fees or customer support fees.
3. Ease of Use – Choosing a tool that is easy to use is essential if you want to maximize your results. Look for tools with an intuitive interface and user-friendly features.
4. Customer Support – You may also want to look at the customer support offered by the vendor before making your decision. Make sure they offer prompt customer service and are willing to help with any technical issues you may have.
5. Reputation – Finally, don't forget to check the reputation of the vendor before making your decision. Read customer reviews and look for any complaints against them before making your purchase.
Top 5 B2B Prospecting Tools for 2023
It is no secret that the right B2B prospecting tool can make or break your sales process. With so many options out there, it can be difficult to choose the right one for your needs. To help you out, we have compiled a list of the five best B2B prospecting tools for 2023.
GrowMeOrganic
GrowMeOrganic is an advanced lead-generation tool that helps you uncover new prospects and build relationships with businesses. This powerful tool is designed to provide you with the data you need to create a successful sales pipeline. With GrowMeOrganic, you'll be able to find leads quickly, create targeted campaigns, and track the results of your efforts.
You can also use the platform to nurture leads, set up automated campaigns, and segment prospects for more efficient outreach. By combining powerful data with intuitive features, GrowMeOrganic makes it easier to find and connect with ideal customers.
GrowMeOrganic is an AI-powered B2B sales prospecting tool that helps businesses identify and qualify leads quickly and easily. It features a wide range of features such as lead scoring, contact segmentation, automated outreach campaigns, and more.
LeadFuze
LeadFuse is a powerful B2B sales prospecting tool that helps you find the most qualified leads quickly and easily. It allows you to search for leads by industry, company size, job title, location, and more. With LeadFuse, you can create personalized campaigns to reach out to your prospects with targeted messaging and track your leads' engagement with your messages.
It also offers an advanced analytics dashboard that helps you measure and report on the success of your campaigns. LeadFuse also integrates with popular CRM and email marketing platforms so you can easily manage your contacts and campaigns.
ZoomInfo
ZoomInfo is one of the most popular B2B prospecting tools in 2023. It provides a comprehensive database of over 240 million business contacts and over 8 million companies. With ZoomInfo, you can search for prospects by company name, title, industry, location, and more. You can also filter results to find the right contacts for your target market. Plus, you can use the "Connections" feature to find contacts who have previously worked with you or have a similar role at another company.
ZoomInfo also offers an AI-powered search engine called "Signal" which helps you find prospects that are more likely to convert.
DiscoverOrg
DiscoverOrg is a comprehensive B2B prospecting tool that helps you identify and connect with the right contacts in your target market. It provides detailed contact information and insights, including job titles, contact information, personal emails, job descriptions, company information, and more. The tool also offers AI-powered segmentation capabilities to help you find the right leads quickly and efficiently.
With DiscoverOrg, you can easily create targeted sales campaigns and track the performance of each campaign in real time. Additionally, the platform offers integrations with Salesforce, Marketo, Outreach.io, and other popular tools to help you streamline your sales process.
Hunter.io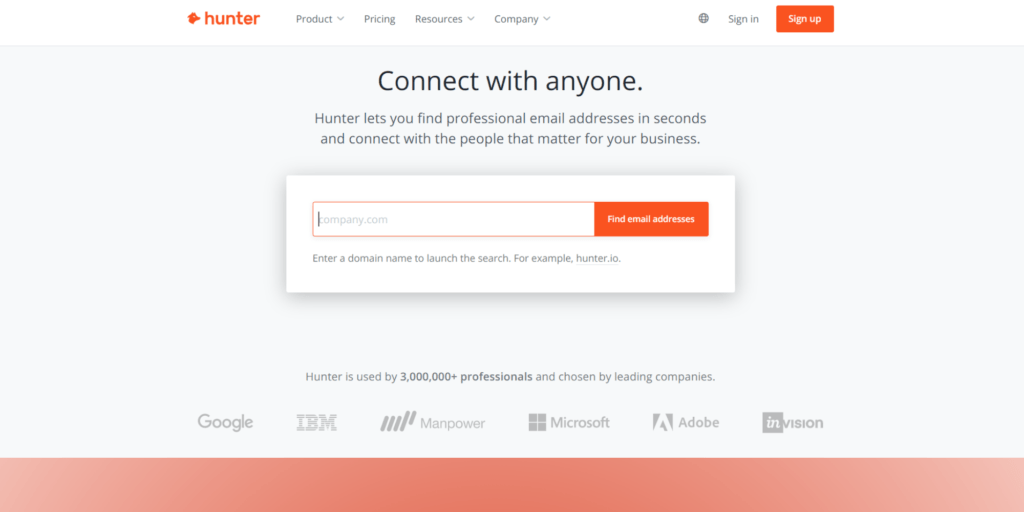 Hunter.io is an advanced B2B prospecting tool that offers powerful features for sales and marketing professionals. It uses artificial intelligence to find leads and contacts quickly and accurately. Its user-friendly interface makes it easy to search for leads and contacts, while a powerful data engine provides accurate results. Hunter.io also provides detailed insights on each contact, such as job titles, job descriptions, contact information, and social media profiles.
Additionally, users can create custom profiles to target specific leads more effectively. Hunter.io is a great choice for businesses looking to increase their lead-generation efforts in 2023.
Tips and Tricks for Effective B2B Prospecting in 2023
1. Understand Your Target Audience:
To embark on a successful B2B prospecting journey, it's essential to have a crystal-clear understanding of your target audience. Take some time to research your potential client's needs, pain points, and industry trends. This knowledge will enable you to tailor your approach and create compelling pitches that resonate with your prospects.
2. Build a Strong Online Presence:
Leverage social media platforms, such as LinkedIn, to connect with decision-makers and showcase your expertise. Share valuable content, engage with your audience, and build credibility within your industry.
3. Utilize Email Marketing:
Email marketing continues to be a powerful tool for B2B prospecting. Craft personalized and engaging email campaigns that provide value to your recipients. Avoid generic templates and focus on building relationships by addressing your prospects' specific pain points. Keep your emails concise and straightforward, ensuring that the key message is easily understood.
4. Leverage the Power of Content Marketing:
Create high-quality content that establishes you as a thought leader in your industry. Publish blog posts, case studies, whitepapers, and e-books that address your target audience's challenges and offer valuable solutions. Optimize your content with relevant keywords to improve your search engine rankings and attract organic traffic.
5. Implement Account-Based Marketing (ABM):
Account-Based Marketing (ABM) is a highly effective strategy for B2B prospecting. Identify key accounts that align with your ideal customer profile and tailor your marketing efforts to address their specific needs. Develop personalized campaigns, create targeted content, and engage decision-makers directly to increase your chances of conversion.
6. Stay Updated with Industry Trends:
To stay ahead in B2B prospecting, it's crucial to keep a close eye on industry trends. Monitor changes in your target market, technology advancements, and emerging business models. By staying informed, you can adapt your prospecting strategies accordingly and position yourself as an innovative and forward-thinking partner for your prospects.
7. Analyze and Optimize:
Regularly analyze your B2B prospecting efforts to identify what's working and what needs improvement. Utilize analytics tools to track important metrics such as open rates, click-through rates, and conversion rates. This data will help you optimize your prospecting campaigns, refine your approach, and achieve better results over time.
Conclusion
Every organization utilizes a similar sales and lead generation methodology. However, the utilization of software tools can help organizations streamline processes that will aid them in being distinct from their competition.
If you are considering utilizing digital tools for your sales process, ask yourself: where can I individually optimize my sales process? Which phase is more efficient? Where can I save time and resources? Where do I boost potential which may be undetectable to me at present but could yield exponential results later on?
Hope this article helps! Automate happily.
Frequently Asked Questions:-
Q 1. What is a B2B Prospecting Tool? 
A B2B prospecting tool is a software solution designed to help businesses identify and discover potential customers (prospects) in the B2B (business-to-business) market. These tools use various techniques such as data analysis, lead generation, and contact information gathering to assist sales and marketing teams in finding and targeting potential clients.
Q 2. How to Prospect a B2B Company?
Prospecting a B2B company involves the systematic process of identifying and approaching potential business clients who might be interested in your products or services. By utilizing B2B prospecting software, you can efficiently research and gather relevant data about target industries, decision-makers, and companies to tailor your sales and marketing efforts effectively.
Q 3. What is Prospecting Software?
Prospecting software refers to specialized tools or applications designed to aid businesses in their lead generation and customer acquisition efforts. In the B2B context, this software is optimized to identify potential clients, gather key business insights, and streamline the prospecting process, ultimately enhancing sales and revenue generation.
Q 4. What are the Most Useful Tools for Prospecting?
In 2023, the most useful tools for B2B prospecting are advanced prospecting software platforms that leverage artificial intelligence, data analytics, and automation. These tools can help businesses discover high-quality leads, track prospect interactions, personalize outreach, and manage customer relationships more efficiently, giving them a competitive edge in the market.
Q 5. How to Find Prospects for B2B Sales?
To find prospects for B2B sales, consider employing a comprehensive approach using the best B2B prospecting software available. Start by Leveraging the prospecting software to identify companies matching your criteria and gather key decision-makers' contact information. Engage in personalized and strategic outreach to build relationships and nurture leads through the sales pipeline.
About Post Author