You can use cold email to contact prospects who haven't engaged with your business yet. Sending cold emails is one of the easiest and most common ways to establish contact with leads and move them through the sales channel.
If you plan for sending cold emails, you must verify that they are the best approach for your business, learn where to find email addresses, understand how to write them; follow up in a way that sparks a response from your leads, and create a way to track your success.
Cold emailing: How it works
Prospecting by cold email is a sales process in which you contact a cold lead to generate interest in your product or service, and then schedule a needs assessment or discovery call to qualify them as a lead.
Cold emailing involves finding the addresses of your target customers, researching them, sending the email and following up as needed, scheduling a call or meeting to qualify the lead, and tracking results.
By writing a quality, personalized cold email to each lead, you can increase the prospect of them responding positively. A quality cold email should include the following:
Captivating "from" and "subject" line
A brief, compelling elevator pitch
A strong call-to-action and signature that will get the recipient in touch with you
You might qualify some leads using email, depending on your business, sales process, and types of products you sell. However, most cold emails will trigger a response, which will allow you to plan your phone call.
Regardless of the method used to generate cold email leads, the end goal is to generate as many high-quality leads as possible and then qualify them in a way that works for you so you can move them forward in the sales process.
Cold Emailing: Is It Effective?
Cold emailing is one of the most effective prospecting strategies but can be time-consuming. Many leads can be emailed at once. Who can read them when they're available or forward them to the decision-makers if you've emailed the wrong person? Once a lead responds, you can schedule a meeting at a time that suits both of you.
Cold emailing, however, is not without its disadvantages, the biggest of which is the possibility that your leads will perceive your email as spam. You may find your lead unresponsive when you send an email, agitated when they read it, or ignoring it altogether, or the email may not reach your lead at all. Cold emailing is such a common practice that you are also in competition for your lead's attention whenever you add it to their inbox.
Even so, cold emails are two times more effective than cold calls, so becoming a better cold emailer requires you to learn the steps, process, and tips. Make sure, however, that cold emailing is right for your business – we will cover this in the next section.
Cold emailing – who should use it?
Even though cold emails can benefit many businesses, there are certain situations when cold emailing is more appropriate for certain businesses than others. Cold emailing is best suited for companies that sell higher-priced goods or services, such as B2B and B2C. Cold emailing can be a more effective sales prospecting strategy for these businesses than cold calling, cold canvassing, or social selling. 
Cold email prospecting can be useful for several businesses:
Leads You Need to Reach Quickly: Cold emailing allows you to quickly cast a wide net and only focus on leads who respond.
Cold email marketing for businesses with marketing material: Your cold emails can include links, images, demo videos, or other resources your prospects can use to visualize and better understand what you're selling.
Business-to-business sales are especially challenging since decision-makers are often overly busy. Rather than calling at the wrong time, you can send a cold email to provide initial information and schedule a time to talk.
Sellers Who Need to Build Relationships: If you have long sales cycles, sell high-ticket items, or sell a type of product or service that requires a post-sale relationship, a cold email is often a great way to get started, and track conversations.
Taking time to respond: When you receive a question or objection from a lead, you may want to take a moment to consider a response so you can give the response that generates the lead's interest.
It is important to find emails of the leads you would like to contact if any of these criteria describe you and you would like to try cold emailing.
Finding Email Addresses
Sending a cold email to the wrong contact won't accomplish much if you know how to write one. It is therefore essential to know how to find email addresses as well as how to write emails. You can find email addresses using social media, the company's website, an email lookup service, and a lead generation company, which we'll explain in-depth below:
Using social media: Check for email addresses on leads' Facebook, Twitter, or LinkedIn profiles. Alternatively, you can use tools like Twitter Advanced Search, LinkedIn Sales Navigator, or ContactOut with LinkedIn. You can also message them for their email address.
Website: Look at website leads' "about" and "contact us" pages to determine if they list personal or company contact information, and look at the footer to find an email address.
An email finder service automatically locates emails on someone's website or is a searchable database of email addresses that contains additional lead information.
Hire a lead generation company to look for customers' emails and qualify them. They may even nurture those leads, make cold calls, and deliver them to you when they are warm.
Choosing a method will depend largely on how much time, money, and effort you want to invest in finding email addresses.
Writing an effective cold email

The next step is to craft the emails once you have discovered their email addresses. When you write a cold email, you must accomplish each of these steps in order:
Find Leads' Email Addresses: Use social media and/or websites to find lead contact information, or use an email finder service or a lead generation company to find contact details.
Obtain Information: Use LinkedIn, a company's website, and other online sources to discover as much as you can about each lead so you can tailor your message. Identify their role and potential pain points.
Make Use of Cold Email Templates: Use cold email templates as a guide when sending out cold emails, taking key elements from the template and integrating them into your unique style and message. You will still write a personalized email while covering your bases.
An Attractive "From" Line: Edit this line according to the way you want to be perceived by the recipient.
Create an eye-catching subject line: Create an intriguing subject line that has a hook, but is not too long.
Describe Yourself and Give Your Pitch: Introduce yourself to the prospect with a sentence or two, then give them a two- to three-sentence pitch that explains the value of the product or service and how it can benefit them specifically.
Adding a Call-to-Action and Signature: Write a one-sentence, direct call-to-action that tells how to get in touch with you. Instead of asking a question, make a direct offer, such as "Give me a call at [your phone number] to get started."
Following Up Two–Three Times: After sending the first email, follow up at least weekly and use increasingly conversational language. After your third email, follow up with the lead again in a few months if they do not respond.
Improve Your Emails: Track actions your recipients take after they receive your email in your CRM. To improve your cold email success, experiment with other strategies.
It can take a lot of trial and error to write the perfect cold email. You can increase your success by testing different templates, following all key steps, and tracking your results.
Cold Email Tracking & Improvement
Keep track of your results as you gather lead contact information and send cold emails you believe will best pique their interest in your product. By doing this, you will be able to figure out what's working and what you can do to improve your conversion rate. Using CRM software that tracks email-specific metrics is the best way to see how your emails are performing.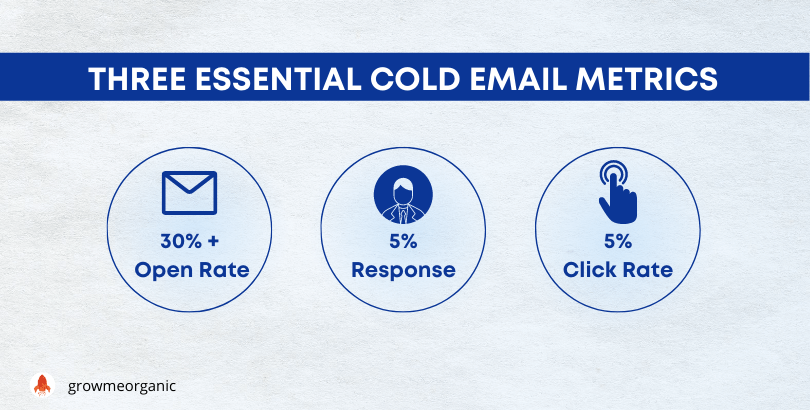 At a minimum, track the metrics listed below, and add more as needed:
The open rate of an email is the number of recipients who open it.
The click-through rate represents the percentage of recipients who click on a link or link to a calendar service to book a call with you within your email.
The response rate measures how many recipients respond to your email.
Keep your bounce rate low to prevent being flagged as spam. Bounce rate: the percentage of emails that fail to make it to the recipient's inbox.
Compare the effectiveness of each email type you send by tracking these metrics. Continue to measure your emails as you become more comfortable, and include any other metrics you believe will be helpful to your cold emailing efforts.
About Post Author