Are you a US-based startup looking for the best B2B database software? We've got you covered! This blog post will look at the top 3 B2B database software for US startups, so you can make an informed decision on which one is right for your business. Keep reading to learn more!
Whether you're a small or medium-sized enterprise, these software solutions will simplify the process of finding accurate and up-to-date business data, allowing you to make more informed decisions. Whether you're a tech-savvy entrepreneur or simply looking to level up your data game, these software solutions are designed to make your life easier.
In the current business environment, B2B database software is necessary for startups. To make prospecting easier and more efficient, here are the Top 3 B2B database software solutions in the U.S.:
GrowMeOrganic
Salesforce
Hubspot
What is a B2B Database?
A B2B database is an invaluable tool for any business wanting to reach new prospects and customers. It contains contact information and detailed data points that can be used to target specific audiences for sales and marketing campaigns. This information can prove to be quite valuable when it comes to crafting effective sales and marketing strategies.
By leveraging a B2B database, businesses can quickly identify potential leads, get in touch with decision-makers within organizations, and even develop personalized campaigns.
Now, you might be wondering how exactly all this data can be put to good use. Well, let me break it down for you. With comprehensive B2B database software, businesses have the ability to compare different data sources. This means they can choose the best datasets, APIs, and top lists to suit their specific needs. Imagine being able to access a vast pool of information about your target audience.
You could easily find the right people to reach out to, armed with all the necessary details to make a meaningful connection. It's like having a secret weapon in your sales and marketing arsenal! By utilizing a B2B database, businesses can take their campaigns to a whole new level.
With the ability to identify potential leads and decision-makers, you can focus your efforts on those who are most likely to convert. No more wasting time on uninterested parties! But that's not all. A B2B database also enables you to tailor your campaigns to suit the needs and preferences of your audience.
Armed with insights about their industry, job roles, and interests, you can create personalized messages that resonate with your prospects. This level of personalization can significantly increase your chances of success.
In today's fast-paced business world, having access to accurate and up-to-date data is crucial. A B2B database ensures that you have the information you need right at your fingertips. It's like having your own little black book of contacts but with so much more!
How We Evaluated the Best B2B Databases
Customer B2B database software lets businesses store and manage customer data, so it's important to evaluate multiple products before making a decision. GrowMeOrganic software also helps improve sales leads by using B2B database software to discover new opportunities.
Additionally, weather data is becoming increasingly important in both B2B and B2C businesses as it allows them to analyze the impact of weather on their operations.
Benefits of Using B2B Database Software
Modern businesses need B2B Database Software to help them succeed. DataGardener is a leading provider of UK B2B Marketing data and business information. Their Database cleansing services ensure that your data is accurate and up-to-date, helping you make informed decisions and avoid wasting time and resources on outdated information.
In addition, DataGardener offers email lists, allowing you to target the right audience and effectively reach potential clients. With their company profit lookup and finance services, you can gain valuable insights into your target market and make informed business decisions.
UnboundB2B is a trusted Lead Generation company that offers comprehensive sales and marketing enablement services. From Database Management to tailored questions, they provide end-to-end solutions to help you generate quality leads and boost your sales.
With their expertise, you can enhance your investigation of potential clients, gaining a deeper understanding of their needs and preferences. You can also find email addresses and phone numbers of key decision-makers, enabling you to establish direct contact and build strong business relationships.
Using B2B Database Software offers numerous advantages for businesses.
One of the key benefits is the ability to improve product and industry knowledge. By accessing accurate and comprehensive data, you can stay updated with the latest trends and developments in your industry. This knowledge allows you to fine-tune your products and services to meet customer demands, giving you a competitive edge.
Another significant advantage of using B2B Database Software is the ability to target high-value deals. Instead of relying on a large number of average-sized deals, B2B companies can focus on fewer but more valuable opportunities. This approach not only saves time and resources but also maximizes revenue potential.
With the right software tools, you can identify and prioritize the most promising prospects, increasing your chances of closing lucrative deals.
Furthermore, B2B Database Software can help streamline your marketing efforts. By identifying and segmenting your target audience, you can create personalized and targeted marketing campaigns. This tailored approach allows you to deliver the right message to the right people, increasing the effectiveness of your marketing efforts and driving higher conversion rates.
GrowMeOrganic
GrowMeOrganic is the top email database provider in the industry, offering an all-in-one solution for sales reps, marketers, and startups. Their lead generation tool helps you find email addresses filtered by any industry, job profile, or company.
For those looking to target customers through email marketing software, GrowMeOrganic helps marketers and advertisers to generate niche-targeted B2B and consumer data. It's another great software for B2B data extraction with an impressive 4.8 user rating for functionality and a 5-star rating for API & pricing extraction.
GrowMeOrganic has a user-friendly interface that allows you to simply manage and track the performance of your cold email campaigns. GrowMeOrganic is a cost-effective solution for businesses of all sizes looking to enhance their cold email outreach and produce new leads, with pricing starting at $49 per month and a 14-day free trial.
Features of GrowMeOrganic
🏭 Export businesses from any Industry:
Utilize a vast database of 15 million+ companies.
Easily find companies based on specific criteria such as industry, company size, location, and name.
🧑‍💻 Find contacts of employees from any company:
Quickly access a comprehensive list of employees working for a particular company.
Obtain contact details of employees associated with the selected company.
⚡ Convert Companies Name to Website:
If you have a list of company names, efficiently convert them into corresponding websites.
Save time by finding websites for multiple companies within seconds.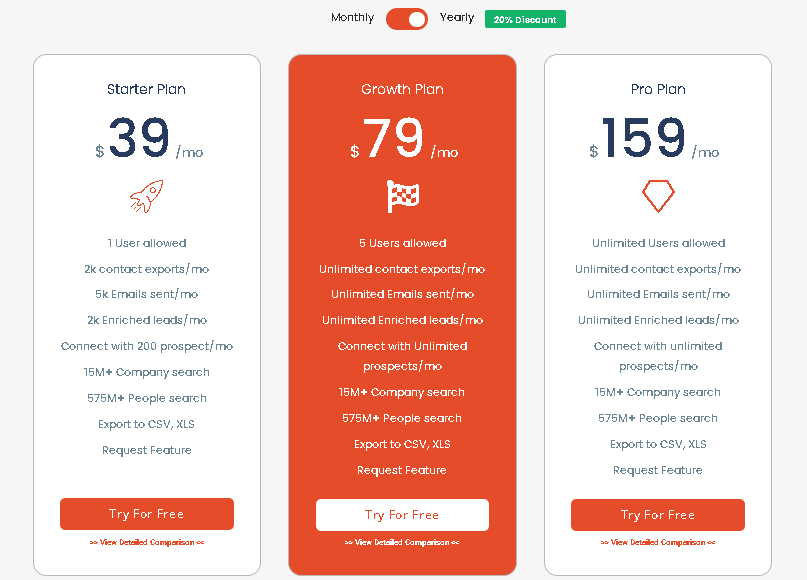 Salesforce
Salesforce is a B2B contacts software company that provides companies and contacts search in Salesforce. Their paid platform allows businesses to understand customers, identify prospects, and personalize interactions with data.
If you are looking for dashboard software, Datamation's Top 3 Recommendations include Salesforce, a top SaaS company. Apollo has an Engagement Suite that includes over 220M contacts and 30M companies with accurate data. UnboundB2B offers lead generation services from B2B Database software Management to sales enablement.
Features of Salesforce
Salesforce Commerce Cloud is the leading sales software tool for B2B businesses, offering a suite of features designed to make it easier to generate, manage, and monitor leads. Its core value services are multi-tenant, allowing data to be stored in a single database schema while providing users with a 360-degree view of their customers.
Additionally, Salesforce also offers improved AI technologies that enable users to access direct dials, mobile numbers, and emails. With over 300,000 Sales Execs already signed up for this powerful platform, you can be sure that Salesforce Commerce Cloud will help your business reach its goals.
HubSpot
Hubspot is an innovative company that has experienced rapid growth in the last three years. With the help of HubSpot, a CRM platform, they have been able to scale their business operations successfully. HubSpot is perfect for B2B service companies and offers various marketing tools to its customers. It also creates software products tailored to the needs of B2B companies and is suitable for both B2B and B2C companies.
Features of HubSpot
HubSpot CRM is a great solution for both B2B and B2C companies of all sizes. It offers three packages – Sales, Marketing, and Services – to provide a 360-degree view of your customer. This software allows businesses to create various tools for inbound marketing and sales. It is also highly rated for its sales marketing software tool which provides direct dials, mobile numbers, and emails.
Circular, a Berlin, Germany-based B2B Software-as-a-Service company, has employed HubSpot CRM to offer an intuitive solution for employee expenses.
Selecting B2B Database Software: 5 Steps to Identifying the Ideal Solution for Your Business
When searching for the ideal B2B Database Software for your business needs, follow these five essential steps to ensure you make the right choice:
1. Define your requirements:
Begin by outlining the specific requirements of your business. Consider factors such as the type of data you need, the volume of data, integration with existing systems, user accessibility, and any special features you might require. A clear understanding of your needs will help you narrow down potential software options.
2. Research available options:
Conduct comprehensive market research to identify the various B2B Database Software providers. Look for reputable companies with a track record of delivering reliable and secure solutions. Take note of customer reviews, ratings, and testimonials to gauge user satisfaction.
3. Assess data quality and accuracy:
The accuracy and quality of the data within the database are crucial for successful B2B operations. Evaluate the provider's data collection and validation processes to ensure you'll have access to accurate and up-to-date information. Request sample data if possible to assess its relevancy to your business.
4. Analyze scalability and performance:
Consider your business's future growth and ensure that the B2B Database Software can accommodate expanding data requirements. Assess the software's performance capabilities, including data processing speed and response times, to ensure it meets your business demands.
5. Review security and compliance measures:
Safeguarding sensitive business data is paramount. Evaluate the software provider's security protocols, data encryption methods, and compliance with industry regulations (e.g., GDPR, CCPA) to ensure your data remains protected and in compliance with relevant laws.
By following these steps, you'll be better equipped to choose the right B2B Database Software that aligns with your business objectives and sets you up for success.
Making the Decision
Businesses now have access to more data than ever before thanks to the GrowMeOrganic Datastream B2B database software. With over 575 million+ contacts and 30 million+ companies, businesses can arm themselves with the best company data available and gain a competitive edge in the market.
Benefits of using GrowMeOrganic B2B contact database include improved customer outreach, better targeting and segmentation, enhanced personalization capabilities, and more accurate market insights. With the help of this resourceful data, businesses can stay ahead of their competition and drive success.
Conclusion
Businesses need reliable B2B databases and artificial intelligence.ai to ensure their prospecting process is easy and efficient. In Q3 2022, the B2B segment raised $423 million from 58 deals – the second-highest among all sectors – showing how important these databases are for startups.
Fortunately, there are a number of excellent B2B database software options available to startups in the U.S. Three of the most popular options include GrowMeOrganic, Hubspot, and Salesforce for Startup Investments.
All in all, these three leading B2B databases will make it much easier for startups to reach their targets in 2023.
Frequently Asked Questions:-
Q 1: What is B2B database software?
B2B database software is a tool that helps businesses store, manage, and analyze data related to other businesses they are targeting for sales, partnerships, or marketing campaigns.
Q 2: Why do US startups need B2B database software?
US startups can benefit from B2B database software as it provides them with accurate and up-to-date information on potential clients, investors, and industry contacts. It helps them streamline their sales and marketing efforts, saving time and resources.
Q 3: How can B2B database software benefit US startups?
B2B database software can benefit US startups by providing them with valuable insights and contact information of potential clients, allowing them to reach out to the right audience for their products or services. It can also help them track their sales pipeline, manage customer relationships, and make data-driven decisions.
Q 4: What features should I look for in B2B database software for US startups?
When selecting B2B database software, look for features such as data enrichment, lead generation, contact management, data segmentation, integration with other tools, and a user-friendly interface. These features can enhance your business's efficiency and productivity.
Q 5: How can B2B database software help with lead generation?
B2B database software can help with lead generation by providing access to a vast database of potential clients and their contact details. It allows you to filter and target specific industries, job titles, or geographic locations, enabling you to reach out to the right leads efficiently.
Q 6: Is B2B database software secure?
Yes, reputable B2B database software providers prioritize data security. They employ measures such as encryption, user authentication, and regular backups to ensure the safety and confidentiality of your business's data.
Q 7: Can I integrate B2B database software with other tools?
Many B2B database software solutions offer integrations with popular tools like CRM systems, marketing automation platforms, and email marketing software. This integration allows seamless data transfer and improves the overall efficiency of your business operations.
About Post Author