if you are already using such a tool as FindThat Email and are looking for its alternatives, then we are here with the 11 best FindThat alternatives.
Technology like lead intelligence software is extensively used, and many look for well-liked, efficient software programs with browser extensions and social network integration.
When looking at FindThat alternatives, dependability, and usability are also crucial things to take into account.
Lusha, Seamless.ai, LeadIQ, and ZoomInfo SalesOS are the products reviewers have chosen as the top rivals and FindThat alternatives.
GrowMeOrganic offers one of the premier LinkedIn email finder chrome extensions that can be a Chrome LinkedIn email finder add-on. With this add-on, you can extract email, telephone numbers, industry websites, job titles, and other data from LinkedIn with one click.
It is first-rate, clean and 100% secure to apply with LinkedIn. Even with limitless search credit, GrowMeOrganic guarantees that you may seek and export as many authentic emails as you need from LinkedIn.
Compare GrowMeOrganic with different famous LinkedIn Email Finders: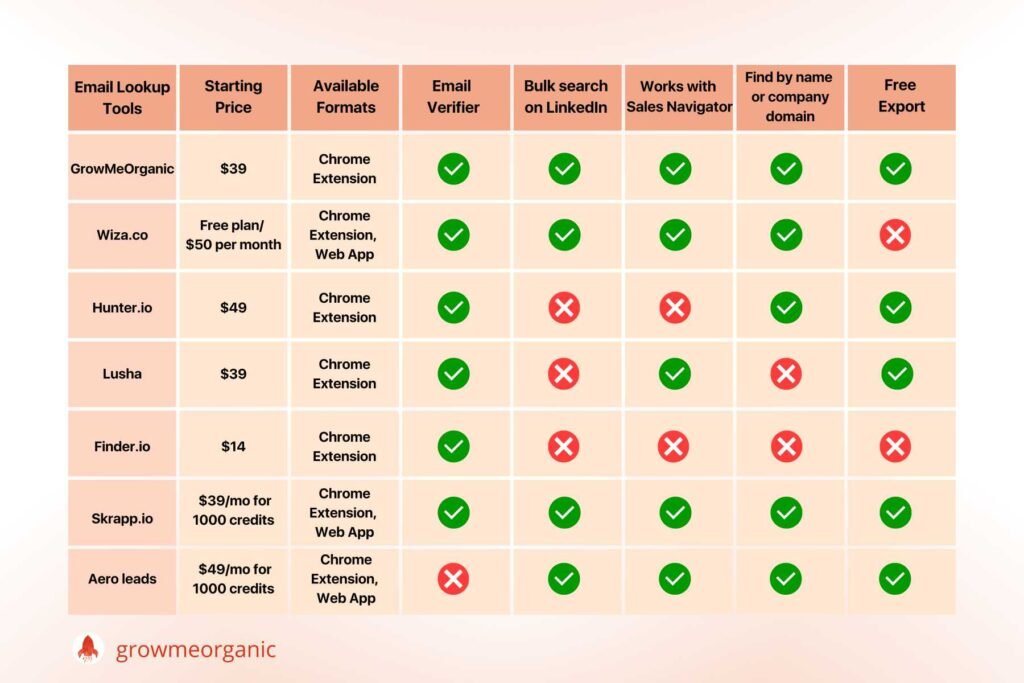 Features include:
Unlimited search and export credits, no string attached
Single-click on bulk export LinkedIn email finder chrome extension
Human-like conduct and quality exercise implementation
Provides Detailed company information of thousands of companies, including the number of employees, industries, and search features.
Offers cold email Response services, email list acquisition, and knowledge base and tutorial videos
Automated call for support Virtual assistant Support services
Schedule a demo call with the team.
| | | | |
| --- | --- | --- | --- |
| FEATURES | Starter | Growth | Pro |
| Users Allowed | 1 | 5 | Unlimited |
| Contact exports/month | 2k | Unlimited | Unlimited |
| Search/Month | 15M+ Company search 575M+ People search | 15M+ Company search 575M+ People search | 15M+ Company search 575M+ People search |
| Emails sent/month | 5k | Unlimited | Unlimited |
| Pricing/Month | $39 | $79 | $159 |
| Images, Attachments & Link Tracking | ✔ | ✔ | ✔ |
| Prospects/month | Connect with 200 | Unlimited | Unlimited |
Lusha
Business professionals may communicate with their leads, contacts, and candidates quickly and effectively with the aid of Lusha.
The basis of B2B engagement is trust.
Utilizing easy-to-use technologies that let you check and enhance business profiles, Lusha assists you in establishing that confidence.
Today, more than 250,000 salespeople, recruitment managers, and marketers use Lusha daily to change how they interact with their leads, contacts, and applicants.
From small and medium-sized businesses to large corporations like Google, Amazon, Salesforce, and Apple, to mention a few, we serve a wide range of clients.
Seamless.A.I
Find the direct dials, emails, and cell phones of everyone you need to sell to.
Learn why more than 300,000 businesses utilize Seamless.AI to expand their operations.
The best sales lead in the world are provided by seamless.ai.
Utilize artificial intelligence to immediately acquire your entire addressable market, maximize revenue, and improve sales.
Because outdated "databases" and superficial "web-scrapers" can't offer pertinent, real-time, well-studied, and verified contacts and businesses to fill your pipeline with valuable data, Seamless.AI was developed.
Demand better and use our real-time search engine and "take anywhere" Chrome extension to uncover the most pertinent contacts and obtain researched and validated contact information rather than settling for any old "database."
Lead IQ
LeadIQ makes it possible for sales representatives to quickly locate, gather, and add contact information to their preferred sales tools, which improves the prospecting workflow.
We genuinely mean one click when we say "one click."
Teams in charge of sales spend too much time on pointless tasks.
LeadIQ automates the tedious and time-consuming aspects of prospecting so that salespeople may concentrate on the proper tasks.
Zoon Info Sales OS
The contemporary go-to-market platform for B2-B firms is ZoomInfo SalesOS.
We maintain the most comprehensive, up-to-date, and often updated database of insights, intelligence, and data on purchasing intent about businesses and contacts.
To assist you in engaging with prospects and customers, we build additional tools on top of that insight, such as conversation intelligence (Chorus), sales engagement (Engage), and data orchestration (RingLead).
Your go-to-market teams will be more prepared and well-equipped to close more transactions and hit their number if all of these technologies are integrated with the other important platforms you employ.
Apollo.io
Apollo is a comprehensive sales intelligence platform with capabilities to assist you in prospecting, engaging with customers, and generating more money.
Apollo helps sellers and marketers find more potential clients, connect with contacts, and develop a cutting-edge go-to-market plan.
Over 220M contacts and 30M organizations with reliable and accurate data are included in Apollo's B2B Database.
To efficiently scale outbound activities and sequences, teams use Apollo's Engagement Suite.
Finally, use Apollo's Intelligence Engine to elevate your go-to-market procedures by providing recommendations and closing-oriented insights.
Since its launch in 2015, Apollo.io has gained the trust of over 10,000 clients, ranging from large international corporations to fast-growing startups.
Adapt
Adapt is a global B2B contact and company database provider across multiple industries. Adapt has 500,000+ users and 100 million business contacts, including an industry-specific company database and contact information such as job titles, direct dial, and email addresses. It is a unified sales platform with the industry-leading products Lead Builder and Prospector. With robust CRM integration and chrome extension, Adapt's database enables sales representatives, marketing leaders, recruiters, and decision-makers to connect faster, engage seamlessly, and start prospecting without delay. Adapt is built for modern marketers and sales teams to hit the target more quickly, from finding the correct links to building qualified leads and engaging with prospects.
Clearbit Data Activation Platform
To help you convert leads into customers faster, Clearbit Enrichment immediately adds 100+ data points on a company, its technology, and its staff to every record you hold.
This is how:
Easily automates and enhances workflows with Salesforce, Marketo, HubSpot, Pardot, Segment, and other applications.
Stop missing out on profitable leads; real-time context allows you to route, score, and expedite the buyer's journey.
Cut forms down:
To maximize conversions, hide or auto-fill known fields.
Use a trustworthy, accurate source:
Act on recent business data enhanced by machine learning algorithms and highly skilled QA for all websites, not just those of the Fortune 500.
Rocket Reach
RocketReach is trusted by more than 11 million companies worldwide, including Apple, Disney, Google, Amazon, Facebook, and 95% of the S&P 500.
With the help of RocketReach, you can create contact and business lists using the most comprehensive and up-to-date database of emails and direct dials.
Ad targeting, contact information, database segmentation, and hiring are just a few of the many business demands that can be satisfied.
Today, give it a free try.
Uplead
Using an integrated email verification feature, UpLead's B2B contact database solution enables organizations to create customized contact lists and provide pre-qualified leads.
It has a data enrichment module that enables sales teams to look for potential customers depending on their geography, industry, revenue, and company size. This module also transfers critical lead data to already-existing sales CRM solutions to enable real-time opportunity interaction.
Email finder, account-based marketing, bulk downloading, search, contact list building, and technographic segmentation are some of UpLead's key capabilities.
It offers a Google Chrome plugin that companies may install to automatically collect lead information from LinkedIn or company websites, including locations, sizes, names, contact information, and technology.
Administrators can also use the platform's lookup feature to find businesses utilising a specific technology.
Sense
The way businesses build, manage, and convert pipelines to income is reinvented by 6sense.
Using anonymous purchase signals, 6sense Revenue AI targets the relevant accounts at the right time and suggests channels and messaging to improve revenue performance.
6sense equips sales, marketing, and customer success teams to improve pipeline quality drastically, accelerate sales velocity, boost conversion rates, and predictably enhance revenue by eliminating guesswork, friction, and wasted sales effort.
About Post Author