What is the most crucial goal for any company?
It's true—profitable growth.
Using cutting-edge technology and a vast company database, ZoomInfo is a top business intelligence tool. ZoomInfo powers market strategies from the beginning to the end and is trusted by thousands of salespeople, marketers, and recruiters.
You know what else, though?
If you are already using such a tool as ZoomInfo and are looking for its alternatives, then we are here with the 11 best ZoomInfo alternatives.
The price of ZoomInfo's subscription plans recently increased; as a result, many users are now considering their alternatives.
GrowMeOrganic offers one of the premier LinkedIn email finder chrome extensions that can be a Chrome LinkedIn email finder add-on. With this add-on, you can extract email, telephone numbers, industry websites, job titles, and other data from LinkedIn with one click.
It is first-rate clean and 100% secure to apply with LinkedIn. Even with limitless search credit, GrowMeOrganic guarantees that you may seek and export as many authentic emails as you need from LinkedIn.
GrowMeOrganic.com is a thorough cold email outreach platform that aids in campaign automation and boosts open and reply rates. You can use custom fields, A/B testing, and dynamic content to tailor your emails.
You can effortlessly categorize your contacts, create drip campaigns, and monitor your performance indicators using GrowMeOrganic. The tool also offers an AI-powered assistant that may assist you in quickly creating great emails. Additionally, it enables you to track the effectiveness of your campaigns and send emails in bulk.
GrowMeOrganic is an excellent solution for streamlining your cold email outreach. With its extensive feature set, you can find and verify email addresses, optimize your procedures, and ensure that your campaigns are as successful as possible.
Compare GrowMeOrganic with different famous LinkedIn Email Finders: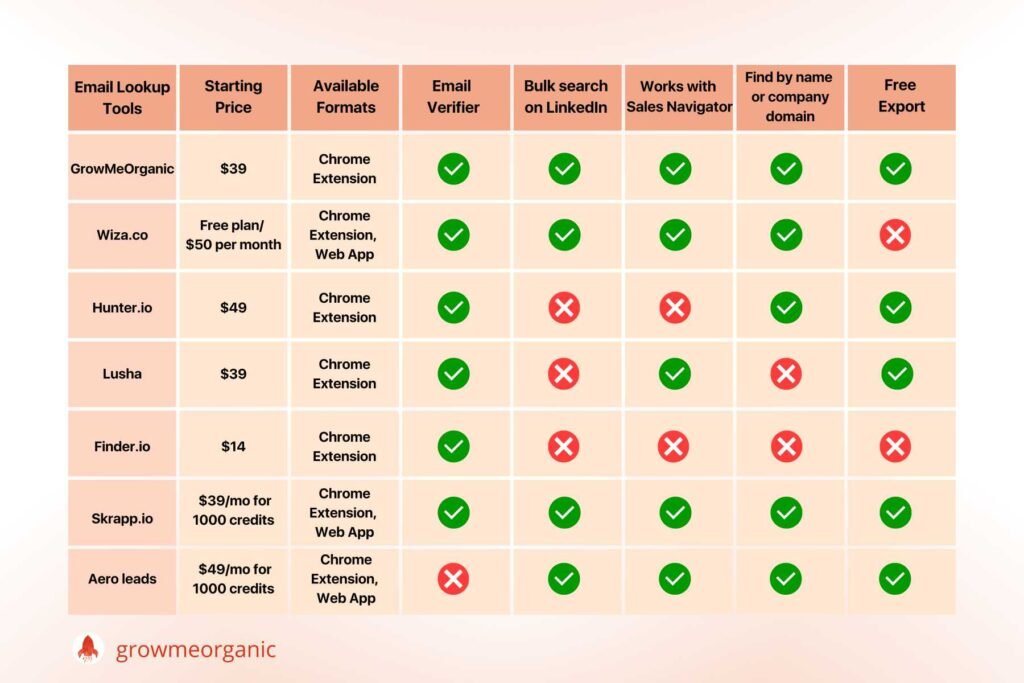 Features include:
Unlimited search and export credits, no strings attached.
Single-click on bulk export LinkedIn email finder chrome extension
human-like conduct and quality exercise implementation
It provides detailed company information on thousands of companies, including the number of employees, industries, and search features.
offers cold email response services, email list acquisition, and knowledge base and tutorial videos.
An automated call for support Virtual Assistant Support Services
Schedule a demo call with the team.
| | | | |
| --- | --- | --- | --- |
| FEATURES | Starter | Growth | Pro |
| Users Allowed | 1 | 5 | Unlimited |
| Contact exports/month | 2k | Unlimited | Unlimited |
| Search/Month | 15M+ Company search 575M+ People search | 15M+ Company search 575M+ People search | 15M+ Company search 575M+ People search |
| Emails sent/month | 5k | Unlimited | Unlimited |
| Pricing/Month | $39 | $79 | $159 |
| Images, Attachments & Link Tracking | ✔ | ✔ | ✔ |
| Prospects/month | Connect with 200 | Unlimited | Unlimited |
No matter the niche, Leadfeeder is one of the top ZoomInfo alternatives for finding qualified leads. Although it isn't a contact database per se, it aids in identifying businesses that are visiting your website. Additionally, learning how they found you and their areas of interest will help you expand your pipeline as a whole.
What is more, then?
Features
Leadfeeder converts unidentified web traffic into real-world business and person names.
To assist you in nurturing such leads, it retrieves intent information on website users.
Leadfeeder Discover improves personalization for visitors to your website.
Pros
You can evaluate the quality of your website's content using this substitute for ZoomInfo.
Awe-inspiring user interface.
Cons
The ZoomInfo alternative's price may seem high given the few functions it offers.
One of the greatest substitutes for ZoomInfo is the sales prospecting tool LeadFuze. This growth acceleration tool ensures that all users will receive new and pertinent leads, whether they are salespeople, marketers, or recruiters.
What makes it an even better tool is as follows:
Features
Leads that meet your criteria are immediately added to your list by Fuzebot, LeadFuze's AI assistant.
Additionally, the bot can automatically start outreach initiatives.
the choice to connect to more than 1,000 tools using Zapier.
The software provides precise information on leads, such as their employment history, abilities, level of schooling, and more.

The customer service team at LeadFuze responds quickly.
Its unique Ignore List feature makes sure you don't waste credits on the info you already have. You've come to the right place if you're one of them. We examine some of the top ZoomInfo competitors in-depth in this post.
Lead411 is a leading provider of verified leads that are challenging to find elsewhere. Customers can create B2B email lists with Lead411, including B2B direct dials, that are not only precise but also driven by growth purposes. One of the greatest ZoomInfo alternatives on the market, they assert a deliverability rate of 96% that results in a rapid ROI.
Features
The clever Sales Trigger, one of Lead411's greatest features, alerts users to triggers like job changes, promotions, rival product launches, etc. This can be a terrific strategy to seize an opportunity.
The Reach Status Dashboard of our ZoomInfo substitute continuously updates users on their progress.
ScopeLeads
One of the most dependable ZoomInfo alternatives for email prospecting and B2B lead creation is ScopeLeads. Customers can use this application to automate all aspects of their sales processes, from generating qualified leads to monitoring their development. Some of the leading companies employing this platform are Wix, Sun Life Financial, and PressCable.
Features
ScopeLeads is one of the top ZoomInfo competitors since it provides local B2B leads promptly with complete information, including their email.
Send reports and website audits to companies that don't spend money on marketing.
For greater conversions, send customized single or batch cold emails to prospects.
DNB Hoovers
Among the top ZoomInfo competitors, DNB Hoovers is a potent B2B prospecting tool that aids in business expansion and increases return on investment.
Companies can discover and target the complete acquisition market using this platform. This ZoomInfo substitute is used by Rackspace and Morningstar Inc. to enhance decision-making.
Features
The data and rev-ops teams work together to aggregate data, clean it up, and develop smart insights that serve as a basis for decision-making.
This ZoomInfo substitute provides access to 170+ million international businesses for more precise targeting.
Increase sales productivity by customizing the dashboard, obtaining dynamic lead lists, and determining buyer intent.
Price
Rev.Up ABX for Web Plans and Web Essential Pricing Plans are the two different sorts of plans offered by this ZoomInfo substitute.
ABX Rev.Up for the Web
Required: $500 monthly
Standard: Individual price
Expertise: Custom pricing
Essential Web
Beginning: $500 per month
Educated: $1083 per month
Increase: $1750 monthly
$2500 per month on a scale
Seamless. Over 200k sales, marketing, and recruiting teams use AI as one of the top ZoomInfo alternatives to increase revenue and capture their entire addressable market. It has made lead generation easier for leading B2B companies like Slack, Amazon, and Facebook.
Features
This ZoomInfo substitute's AI engine maintains your database so that you never miss a conversion chance.
Create your ideal contact persona to generate more quality leads and earn more money.
A real-time people search can help you gain direct access to important decision-makers so you can strengthen your pipeline and boost ROI.
A sales CRM alternative to ZoomInfo is Pipedrive, which was created for salespeople. This tool is used by 95,000 businesses worldwide and is available in 179 nations.
This three-step sales intelligence tool assists in managing your pipeline for greater conversions by sales teams. Pipedrive is used by businesses like Festo, Amazon, and Vimeo to improve their sales cycle.
Features
An alternative to ZoomInfo is Pipedrive, which enables you to design a sales pipeline that best fits your lead's path.
For individualized targeting and improved nurturing, you can segment the leads and create lists.
With one of the top ZoomInfo alternatives, you may obtain income and sales volume estimates based on your current sales pipeline.
When it comes to ZoomInfo alternatives that aid firms in growing by focusing on the correct prospects, LinkedIn Sales Navigator tops the list. The program provides real-time updates for your prospects, such as changes in employment. It makes use of the strength of a network that is shared to strengthen customer relationships in business and expand the sales funnel.
Features
With one of the most accessible ZoomInfo substitutes, companies can send InMail messages to more than 500 million LinkedIn members to increase sales prospecting and conversions.
LinkedIn Sales Navigator enables firms to access content without downloading it thanks to its intelligent linking presentations.
The feature provides you with a full view of all visitors to your profile.
Over 120,000 businesses from all over the world utilize the ZoomInfo substitute, Lusha. Big companies like Google, Apple, Amazon, and Salesforce are among their clients.
Still not persuaded of its effectiveness?
Let's examine its salient characteristics:
Features
A 100 million business profiles, 60 million email addresses, and 15 million company profiles database is included with Lusha.
The software enables users to search for prospects on LinkedIn, Gmail, and any B2B website.
Top CRMs like HubSpot, Zoho, Outlook, and others are integrated with it.
Price
Users can select one of three plans:
Professional – $99 a month for free
$199 monthly for premium
Overloop
One of the best ZoomInfo alternatives is Overloop, a platform for sales automation that offers reliable data.
It enhances conversions for your company and helps your outbound sales force be more productive. Companies like Zillow, Livestorm, and Rackspace already use this platform to automate outbound sales.
Features
Customers have access to a drag-and-drop visual interface using this ZoomInfo substitute, which enables salespeople to fully comprehend the sales pipeline.
The ability to precisely predict revenue helps with decision-making and increases turnover.
You can conduct outbound operations with cold emails by using an email finder to obtain the emails of your leads.
Price
Overloop offers prospective customers a 14-day free trial.
Simply put: €39 monthly
Regular: 79 euros per month
Sisense
Simply put, Sisense is a necessary addition to our list of ZoomInfo options. Sisense is considered to be one of the most reliable platforms available when it comes to data sets.
Sisense is trusted by more than 2,000 leading firms to provide revolutionary business insights, and for good reason.
Features
a stunning dashboard that allows customers to instantly visualize all of their data and is updated in real-time.
Any data source can be prepared, visualized, and analyzed by users with little to no technical knowledge.
The platform's simple drag-and-drop features make navigating it a snap.
Price
This ZoomInfo substitute offers a risk-free trial. Only upon request is pricing information made available.
DiscoverOrg
One of the well-known ZoomInfo alternatives is DiscoverOrg, a ZoomInfo company, which assists companies in creating focused sales lists that complement their marketing and sales objectives.
This ZoomInfo substitute helps eminent businesses like LG, Panasonic, and GitHub generate leads.
Features
This ZoomInfo substitute provides prospects with timely insights that customize conversation and raise engagement.
Integrations with top CRM programs like HubSpot, Marketo, Salesforce, and SugarCRM ensure that the lead information is accurate and up-to-date thanks to the validation tool.
Price
This ZoomInfo substitute offers a risk-free trial. According to your needs and sales objectives, the organization will assist you in selecting a suitable plan.
Gong
Your sales and leadership team's total visibility into the sales pipeline, deals, and market changes is provided by this alternative to ZoomInfo.
To develop insights that support your decisions, the tool analyses consumer encounters. This ZoomInfo substitute helps top companies like LinkedIn, Infor, Zillow, and Monday.com increase sales.
Features
This ZoomInfo substitute gives you "at-risk" potential customers so you can figure out how to seal these deals.
In contrast to other ZoomInfo options, businesses can create strategic efforts that boost sales and profits.
Real discussions with your sales team might provide insightful information that can increase the transaction completion rate.
Price
This ZoomInfo substitute lacks a free trial or a freemium edition.
MatterMark
As one of the best ZoomInfo alternatives, Mattermark helps companies find and follow the world's fastest-growing industries.
Faster business conversions and more intelligent targeting are made possible by this lead intelligence solution. These alternative companies to ZoomInfo include Fuel, Highland, and FundersClub.
Features
This ZoomInfo substitute uses machine learning to provide perceptions into the expansion and efficiency of the company.
The application assists in monitoring more than 300 million private enterprises.
Customers are able to categorize, track, and characterize their leads using specific fields like revenue and geography.
Price
The alternative to ZoomInfo offers a 14-day free trial. Examine the tool's paid subscription options.
Standard: $49 monthly for each user
Professional: $500 monthly for each user
Business: Special pricing
Demandbase
Demandbase, a popular alternative to the ZoomInfo tool, offers account analytics that supports GTM plans for businesses.
The technology identifies chances earlier and aids conversion more quickly. This ZoomInfo substitute is used by a few B2B companies, including Adobe, Siemens, Microsoft, JLL, and VISA.
Features
Lead generation and targeted sales boosted by machine learning-driven account identification
Demandbase provides timely insights into 104+ million growing enterprises with finely curated content.
Utilizing the customer's intent, involvement level, and technological preferences, assists in turning every discussion into an opportunity.
Price
The price for this ZoomInfo substitute is not listed on the website. Businesses can schedule a demo and talk with a consultant to determine which product is the greatest fit for them. The sales team will offer assistance with both pricing and product selection.
SalesIntel
One of the best ZoomInfo alternatives is SalesIntel, which enables companies to find, target, and convert the ideal clients.
With reliable data, businesses can build a sales pipeline and close more agreements. Top B2B companies utilize this platform to get information on their target market, like VanillaSoft and Attribution.
Features
For your business, the search feature includes filters like technographic, filmographic, and others that can help.
Businesses can visit the chosen company's LinkedIn profile or website using real-time prospecting.
Businesses may monitor anonymous website users and convert them into qualified leads.
Price
The type of company and its data requirements will affect the pricing strategy. There isn't a "one price fits all" for this ZoomInfo substitute because of this.
Clearbit
The Clearbit data activation platform, a great ZoomInfo substitute, gives companies a behind-the-scenes look at the market and the clients.
It aids businesses in creating a tailored experience across intentions. Asana, Hubspot, and Intercom are just a few of the strong clients for whom this ZoomInfo substitute is home.
Features
One of the most important features of Clearbit is that it combines the data from your GTM systems with its market perspective to provide you with a 360-degree view of your customer. Alternatives to ZoomInfo
Using the various company traits and website intent signals, businesses may target the right audiences.
Businesses can use this ZoomInfo substitute to sync data with their CRM for improved insights and decision-making.
Price
These are the three plans available for this ZoomInfo substitute.
Free: Get going right now
Business: Request a demonstration for a custom price and plan.
Startup: Speak with the sales team to see if your business qualifies, then register it.
About Post Author