Introduction
Whenever it's a new notification from Gmail, our minds strive to see who it could be! It could be a future business partner or prospective client.
But often, with a suspicious email address, it's a scammer! And that could lead to stealing personal details. That's why it's always recommended to go with a useful tool that can protect you against such scams. And that's where the reverse email address lookup tool sweeps in!
In this article, we will be discussing all reverse email lookup tools and how to use one as well. So, let's get started!
What is Reverse Email Lookup?
Often, in our inboxes, we receive emails from an unknown source which leaves us wondering what it could be. To clear out this, a reverse email search service exists, which helps the user find out who that unknown source could be and the purpose of reaching out.
Moreover, it works brilliantly when you are looking for the right candidate for your company and gets leads you intend to convert. Before we move forward with reverse email lookup, you need to know what kind of information it provides –
Aliases (if present any)
Sender's actual full name
Phone Number
Current address
Sender's photo
Their social media profiles
Well, I know what you might be thinking, What's the use of a reverse email search service? The precise answer to this is protection against phishing attacks.
Throughout the Internet, there are severe cybercriminals who trick users into giving up personal information, without letting them recognize a phishing attack. As per statistics, on average, an email user receives around 16 malicious emails every month, which means a high percentage chance for you to catch up on this!
Also, According to the PCguide101, email scams and impersonation accounted for 22% of data breaches.
Why use a reverse email lookup tool?
For industries as well as individuals, using a reverse email lookup tool works pretty well. They utilize it for mainly three reasons, which are:
1. Find out if someone is cheating
Before hiring someone for your company, you must run a background check on them and find out they aren't cheating. Whether it's for hiring someone, a prospect, or a business contact, you need the back story and every possible piece of information that ensures that they wouldn't trick you in any way. That's why the actual uses of the reverse email lookup tool work!
2. Verifying online sellers and buyers
The next one is for marketers, It's an essential step to check all the email addresses that you collect using the email finder tools. This helps you verify whether the prospect is a valid seller and buyer or not and ensures that you don't get any bounces after sending the email.
3. Risk analysis or protect yourself from fraud
Whether it's a small company or a large business, there is always a high probability that they can end up in the trap of cybercrime. But by using a reverse email address search service, you get to protect yourself and the company from any context of fraud, risk, or cybercrime.
How does the reverse email lookup tool work?
Using a reverse email lookup tool is quite as easy as it seems. All you have to do is simply enter the email address where you want the information into the search bar and click Enter to move forward. This will immediately show the results on the website, or you can receive them in the form of pdf reports.
For advanced reverse email searches, API calls or web browser extensions are used. For a convenient way, you can simply upload the CSV file or Excel spreadsheet containing all the email addresses that you want to look into.
Top 7 best email lookup tools
GrowMeOrganic is widely known as the all-in-one lead generation and sales automation platform, mainly preferred by growth hackers, marketing executives, founders, and digital agencies.
With this tool, you can easily extract emails from any B2B and B2C platforms like LinkedIn and Google Maps. It helps you verify business emails to gain potential clients and engage with them.
Features: LinkedIn Prospects, Extract unlimited emails from LinkedIn/Sales Navigator, Drip Campaign, Send automated, personalized, and engaging emails, and Email Finder.
Price: GrowMeOrganic pricing starts from $49 per month. Apart from this, it has a free version and a free trial version also available.
With amazing ratings by its users, Wiza is quite flexible to use. It converts any LinkedIn Sales Navigator search into a valid email address list, ready for outreach. It generates 100s of fully verified email addresses in just a single click. As it has a sales navigator, collecting people outside the user's network becomes very easy and brings out the best possible results.
After setting up the tool, users' leads will be ready for download in a CSV file. Later, it can be exported to Salesforce along with saved lead lists and custom reverse email searches.
Features: Third-party integration, data import/export, activity dashboard, contact management, web data extraction, email marketing, and data aggregation.
Price: Wiza charges the users based on the Pay-as-you-go model or monthly and annual subscription plans. For the prior, it costs $0.15 per valid email, and for the latter, $50 per month and $500 per year for 300 verified emails per month.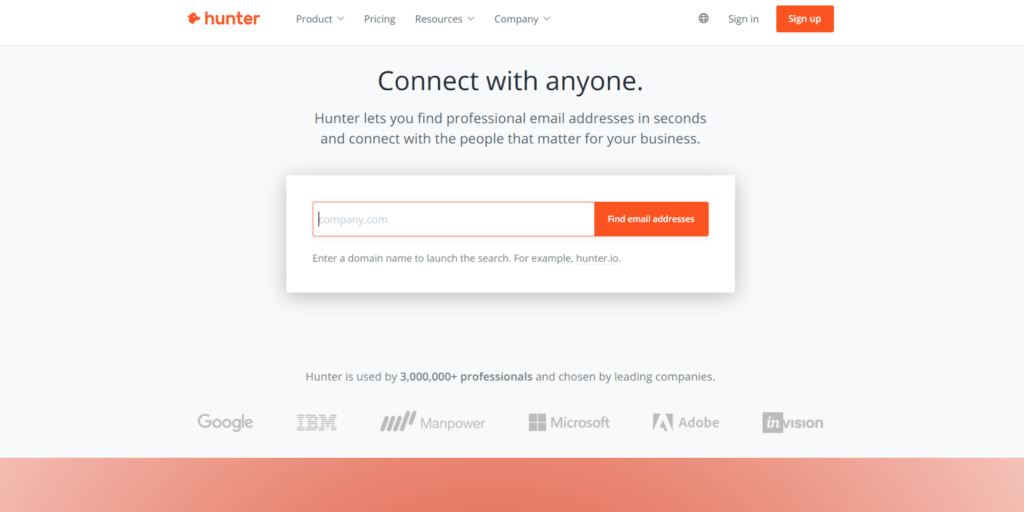 Hunter.io is an email hunter tool that helps marketers find the contact details of any domain. This tool is considered ideal for companies using cold emailing.
In addition to this, this email Hunter is used in various other tasks as well such as verifying emails and doing bulk tasks.
Also, it verifies an email address with a complete check so that you can send it with assurance. And the fun fact is, you can sign in for the free trial of 50 reverse email searches to anyone.
Features: email verification, lead management, bulk email management, free cold email templates, and campaign optimizer.
Price: Hunter.io charges $50 per month and $400 per month for its advanced features and services, being the most expensive plan.
Lusha is known for helping top business professionals establish a fast and true connection with their contacts, leads, and candidates. It helps by enriching and verifying business profiles to gain the trust of the leads.
And not just this, Lusha is known to have more than 250,000 sales representatives, marketers, and recruitment managers, who use it to transform the way they engage with their leads.
Features: Lead Generation, Content Management System, Social Media Management, Marketing Automation, Email Marketing, SEO, Digital Asset Management, NFT Marketplace, Decentralized Social Networks, and Smart Contract Platforms.
Price: The starting plan of Lusha is free, for professionals, it costs $29 per month, and for premium is $44 per month and custom for enterprises.
Being an advanced email verified and email finder tool, Finder.io is designed to help small, medium-scale, and large-scale businesses thrive. It generates qualified leads from a large database of 430 million emails, which are updated every month and converted into prospects. It has bulk support that helps save a great amount of time in the lead generation cycle, qualifying the leads through an email verifier and exporting them to any file format the user prefers.
Features: Mailing list management, reporting/analytics, disposable email detection, spam trap detection, mail server validation, and catch-all server detection.
Price: Finder.io offers two subscription plans, which include 37+ apps at $14.99 each, and a 14-day free trial.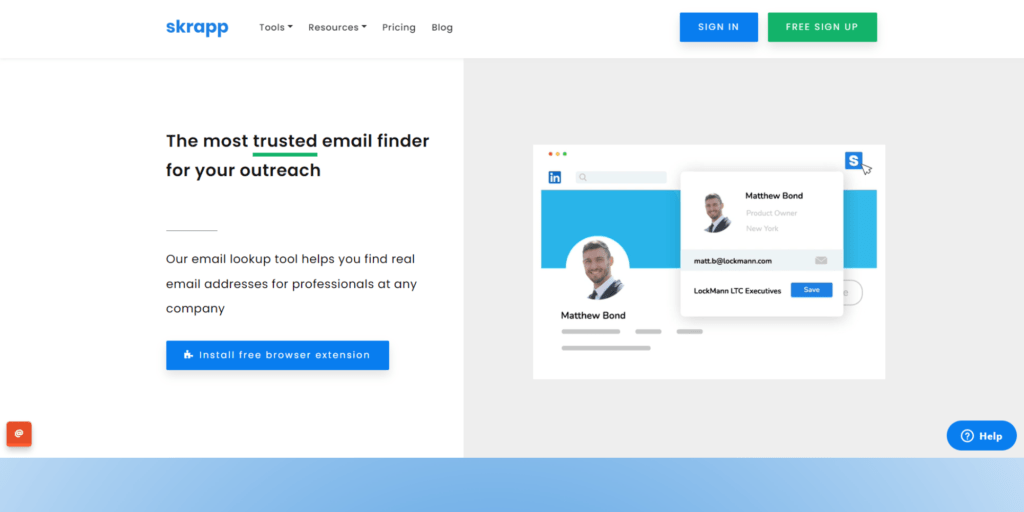 Next is this super amazing email lookup and business data enrichment tool, specially made for B2B sales outreach and email marketing. This tool is very handy to use and is considered the best for generating leads. It contains everything that you need for your company. Mostly, it is used for email research for cold emailing, prospecting, and database enrichment.
Features: Bulk Email Verification, Catch-all Server Detection, Domain Check, and Single Email Verification.
Price: Skrapp.io starts from $49 per month along with a free version as well where they offer 150 free monthly credits and in the case of paid ones, they offer 1,000 email credits for the starting price.
AeroLeads is a very popular prospect generation software that helps in finding the email and phone numbers of individuals as well as businesses. It is considered best for any business that is searching for more prospects and leads using contact details.
Being a cloud-based sales intelligence and prospect generation solution, AeroLeads is the perfect tool for a variety of businesses in the B2B industry.
Features: Phone Number Search, Lead Enrichment, Email Tracker, Company Search, Name Search, Bulk Domain Search, and Domain Search.
Price: The price starts at $49.99 per month. It also has a free version and a free trial session.
Conclusion
In conclusion, we can say that you get a variety of options when it comes to email lookup tools. Whether you need it to identify an invalid or spam email address or to gain more information on your potential candidates for hire, using an email lookup tool helps in a lot of ways.
That's why you should first picture out your requirements and expenses, then choose the right tool accordingly.
Frequently Asked Questions:-
Q 1. Is there an actual free reverse email lookup?
Yes, there are some free reverse email lookup services available online. These services allow you to reverse email searches for information about a person using their email address.
However, it's important to note that the information provided by free services may be limited, and they might not always be accurate or up-to-date. Paid reverse email lookup services often provide more comprehensive and reliable results.
Q 2. How can I locate/find someone based on their email address?
To find someone by their email address, you can follow these steps:
a. Use Search Engines: Enter the email address into popular search engines like Google, Bing, or Yahoo. Sometimes, the person's email might be associated with their social media profiles, website, or other platforms.
b. Check Social Media: Try searching the email address on social media platforms like Facebook, LinkedIn, or Twitter. People often link their email addresses to their profiles, making it easier to find them.
c. Use Email Lookup Services: There are various email lookup tools and websites available that can help you find information associated with a specific email address.
d. Reach Out to Mutual Contacts: If you have mutual friends or acquaintances, ask them if they have any information about the person you are trying to find.
Q 3. How do you reverse-check an email?
To reverse-check an email, you can use an email lookup service or a search engine:
a. Email Lookup Service: There are specialized email lookup services available that allow you to enter an email address and get information about the owner of that email. Some services provide basic information for free, while more detailed reports might require payment.
b. Search Engines: Simply copy the email address and paste it into a search engine like Google. Look for any results that may provide information about the email address owner.
Q 4. In Gmail, how can I perform a reverse lookup?
Gmail doesn't have a built-in reverse email lookup feature, but you can use Google search or third-party email lookup services to find information about an email address. Here's how:
a. Google Search: Copy the email address and paste it into the Google search bar. Google will show you any publicly available information associated with that email address.
b. Third-party Email Lookup Services: There are various online services that offer reverse email lookups. You can use these services by entering the email address into their search bar, and they will provide you with information about the owner of the email.
About Post Author