LinkedIn is one of the most popular social media sites in the world, and is an essential tool for business professionals to build up their professional profiles through LinkedIn search. However, it can sometimes be difficult to find people with an advanced LinkedIn profile who are available on a worldwide scale. Instead of wasting your time scrolling through random people that you have little in common with, follow these steps to find prospects quickly and easily!
What is LinkedIn People Search?
LinkedIn People Search lets you find professionals in your industry so you can connect with them on LinkedIn. You can search for people by company and location or just browse through the thousands of people who are active on LinkedIn — all without leaving the app.
You can use LinkedIn to search for specific professionals, but there's also a nifty option that will uncover new people you might not know about: People You May Know. Want to connect with people you've met? Need a recommendation for an executive recruiter? Need to meet that former employee who's working in a totally different industry? LinkedIn has users in more than 60 countries and 200 industries, so chances are you can find what you need right here.
Why is marketing on LinkedIn important?
LinkedIn is one of the most widely used professional networking sites in the world, with over 300 million members currently. Make sure you are trying to market your skills on LinkedIn as it is a great way to reach a wide range of professionals. In this blog post, we will discuss why marketing your skills on LinkedIn is important for you."
LinkedIn marketing has many benefits that can help individuals and business people alike. Marketing yourself on LinkedIn helps build connections that lead to potential new opportunities or contacts. You can join professional groups and create a profile that showcases your skills.
LinkedIn Search
First, you should create a profile on LinkedIn. A profile contains information like your education and work history. You should use this to show off your skills, achievements, and interests as much as possible. Next, find groups related to the industry or profession that you want to be recognized in. Joining these groups allows you to connect with people in the group who can potentially help you with networking later on down the road. You should also connect with people through references and endorsements. These can be people who have worked with you in past jobs or professors.
Finally, it is important to participate in groups on LinkedIn that are relevant to your profession and industry. This is one of the ways that you can show off your accomplishments and increase your visibility to potential employers. As you gain more profiles and connections, you can start to find ways to help people in need of career assistance or new jobs.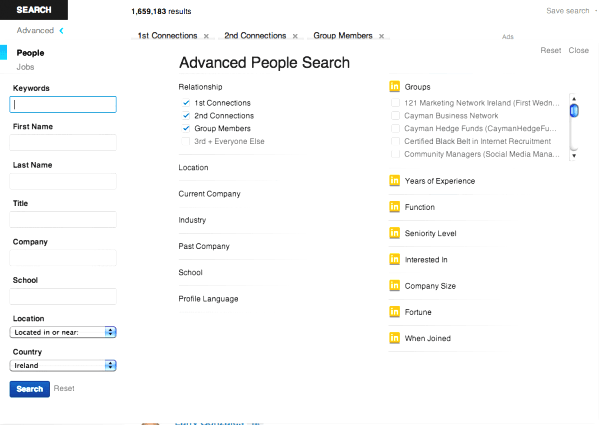 Step One:
Open up LinkedIn and sign in to your account. Make sure that you are searching in the correct section, as this is important!
Step Two:
Once inside LinkedIn, simply enter the keywords that you would like to use into the search bar at the top of the page. Here's an example of how to find people with a Profile Photo and keywords like 'SEO' and 'Content Writer'.
Step Three:
When you have entered your search terms, click the blue "Search" button and LinkedIn will begin searching for people who meet your criteria. Click on the "People" icon on the top of the screen to see all of them. This is a great place to start, because in most cases you will be able to find people that are already following you or "in link. It is also a good place to start because you will be able to see not only their profile pictures, but also their job titles and the companies that they work for.
Step Four:
Once you have found someone that looks promising, click on their profile and you will be brought to a screen with more details about them, including their work history, education, skills and interests. This is a good place to start, because you will be able to see their "more" link in the right next to the message in their profile. Just click on that, and you will be able to see their entire LinkedIn profile.
Step Five:
The first thing that you want to do when you have found someone that looks promising is find out how many followers they have on LinkedIn. When they are on LinkedIn, you can view their "Followers" link in the form of connections in their profile.
Step Six:
Once you have found a person that is interested in writing, and has a high number of followers on LinkedIn, you are ready to ask them what they are looking for. This goes a long way in the process of finding people, because it is the first step.
Step Seven:
Asking them what they are looking for gives you an idea of what kind of projects they are interested in working on, and lets you know how their mind works. This will save you a lot of time down the road by showing you which types of projects they are usually working on.
Step Eight:
Once you have established that they are a high level content writer, click on their 'See more' link to see more of their content. Once you have seen enough of their work, click the "Contact" button to send them an email and set up a time for them to meet with you. This is the best part, because after the first meeting, it is usually much easier for both parties to sign on for a long-term project.
LinkedIn People Search Limit and and how to overcome them
Most recruitment agencies use LinkedIn to find candidates for their clients. This is where the possible issue arises. They have to pay for a subscription in order to access LinkedIn People Search, which limits their searches. The search is limited to the first 300 results, and the fee increases depending on the number of connections you want us to see.
If this is not paid for, then all that can be seen are your public profile information and public groups (assuming you're not private).
If a client is interested in seeing your public profile, which includes your name and email address, then you can see the above information without a paid membership. I find it odd that LinkedIn does not have this option.
The issue with this approach is that if you are selling yourself as skilled at specific skills, it could be difficult for an employer to know if this is true or not unless they know you personally. This is not to mention the possible risks of opening yourself up to spam and scammers on LinkedIn.
LinkedIn monthly profile search limits
It's a sad day when you've reached your monthly search limit on LinkedIn. What is your status? What did that mean to you? After hitting your limit, it used to be game over for you — now, not so much.
LinkedIn has changed those limitations and can now search up to five members on a page or 50 members total per page. The new LinkedIn search limits can be found under the "Account Settings" section of your LinkedIn profile.
LinkedIn limits your number of searches every month to keep users from spamming potential connections.
If you find yourself hitting this limit, don't completely pull back from LinkedIn. It's been my experience that the best way to network is through active engagement — not automated bots. So, if you can't search for connections when you run out of searches, go to those profile pages and engage in conversation with the person whose profile page you have landed on. Write an editorial, ask a question, send a Social Inbox message — something.
LinkedIn's new limits make it impossible to get as many new connections as you would have when the monthly search limit was at 50k. This limits your ability to easily grow your network, but it also stops LinkedIn from displaying spammy profiles that are just there for the sake of having some profile views.
If you find yourself hitting this limit, don't completely pull back from LinkedIn.
How to search linkedin in private mode?
In private mode your search engine remains active but it only shows what other users have chosen to share with their network. Your profile is visible, but only to those in your network. This can be helpful if you're looking for information or trying to find new connections. You will still get the same results, minus the public posts that would normally show up in your search results.
Public Mode and Private Mode Search
Public mode: Shows an individual's entire professional identity
Private mode: Shows an individual's professional identity as they want it to appear to the people they've chosen. Their network will still see their entire profile.
With the help of a LinkedIn account, you can get started by logging in. If you're not logged in and want to search using private mode, you will need to log in first. To do this, type your name and your email address into the form on the sign-in page. Then click Login .
Click the Me icon at the top of your LinkedIn homepage.
Select Settings & Privacy from the dropdown.
Click Visibility on the left rail.
In the Visibility of your profile & network section, click Change next to Profile viewing options.
Select the mode you'd like to browse in. You have three options:
Your name and headline
Private profile characteristics (i.e. job title and industry)
Private mode
If you want to search for people on LinkedIn, but don't want them to know you are looking for them, there is a simple way to do it.
Click on "My Network" to return to the main page and then click on the three dots in the upper right corner.
Uncheck the box to "Find people" to block your name or photo in search results.
Go to your search bar and enter the name of someone you want to find.
Click Enter and the results will show up below without anyone knowing you are looking for them until they click on the link.
At the top of the screen you can find a section named "Unconnected results" and it tells you how many people fit your search criteria.
Click on Connect to communicate with them.
You can also search for people by industry, location, title and more to narrow down your search results.
When you click on a result, you will see their name, photo, title and whether or not they have viewed your profile.
You can also search for people by email address and use the drop down menu to limit your search to people you know or if you want to search for anyone.
Click on "View Profile" at the end of their name for more information about that person, their network, groups and recommendations from other people in your network.
When you click on their name you are taken to their profile, and can use the filters on the left hand side to find them again.
To see if they have viewed your profile, look in the right hand column where it says "People who've viewed your profile" and check their name to see if they have viewed yours.
LinkedIn Boolean Search
LinkedIn Boolean Search is a powerful, albeit not well-known, feature that LinkedIn offers to help you find people. It was designed by engineers to make search easier for them and can create a more accurate user profile for you. The Boolean search is used in fields like the keyword field and Keyword Advanced Search box.
LinkedIn Boolean Search is used to search people by keywords. You can use Boolean to find people who are interested in what you are interested in. For example, if you are looking for a job and want to find people who have a job similar to the one you have, use the keyword field to create a search like "job". LinkedIn Boolean Search can help you find people that match your criteria.
LinkedIn Boolean Search is an advanced search. You must use Keywords to Boolean Combinations in the Keyword Field.
To create a LinkedIn Boolean search, you must use the keywords field and combine keywords with AND, OR and NOT. You can also use quotes to make more complex searches. The basic search is performed by entering keywords into the keyword field followed by a keyword combination, such as OR (capitalized). To make a search more precise, you can add keywords to the keyword field, separated by AND and OR. You can also use quotes to create complex searches.
Here are some examples of Boolean Search:
Examples of LinkedIn Boolean Search
Example 1 – Using the keyword field, find people that have all keywords or people who have at least one keyword (keyword OR NOT).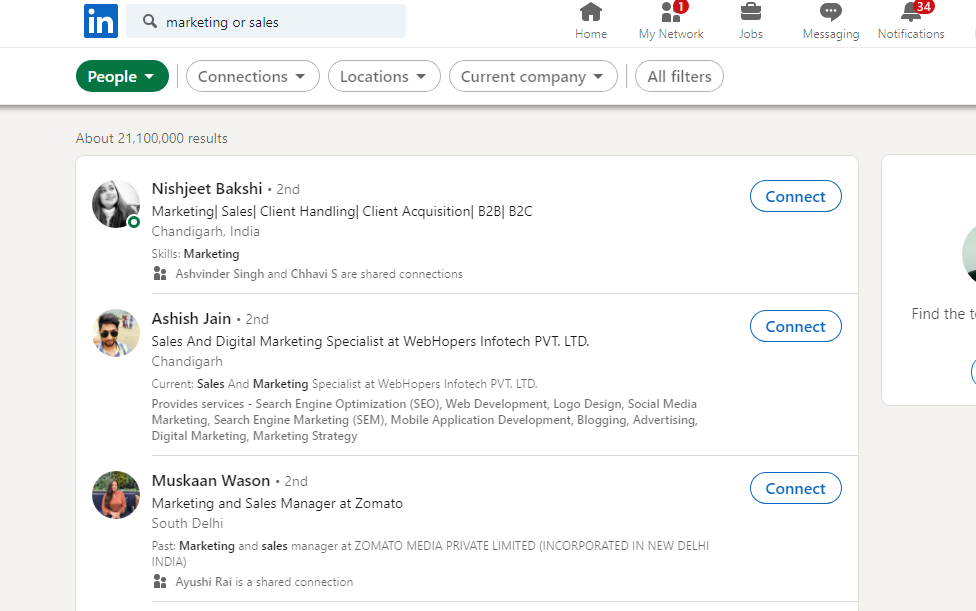 Example 2 – Find people who have either the word "health" And "Lifestyle".
Important Tips For LinkedIn Boolean Search
You need to learn how to use AND and OR.
We're not going to pretend that this is an intuitive concept, but when you've learned how to use them, they can help you find great job opportunities a lot faster than you could if you were using plain old search strings. It's like magic. The extension that you need is called 'A Few Words'. Using it, you can type in a keyword OR keyword phrase, and LinkedIn will return all articles that contain at least one of the words or phrases you've used.
We gave our example above on the blog of how to use Boolean AND search, but with our 'Administration OR Project Management' example, some of the results might not be relevant. Using OR, you could narrow down your results so that they are only relevant to the way you use the words:
You need to learn how to not use AND and OR.
(This is the fun part!) If there is a keyword that you don't want to include in your search, an easy trick to get rid of it is by using NOT which will omit the term from the search results. For example, if you want to exclude the word 'Administration' from your job search, then you would use NOT OR.
Use AND and OR together.
You can use AND with ANY keyword, and then use OR with ANY keyword. Using this strategy, if you type in 'Administration AND Project Management', your search term will be restricted only to those that have both words in their job title (in other words, a Google Translator is not required). A good example of when you should use AND with ANY keyword is if you want to search for someone who is 'Administration OR Project Manager'. By asking for the AND set, it will exclude all those that don't have Project or Administration in their job title, but will still return job titles for those that do.
How to avoid LinkedIn commercial use limitations
If you don't want to lose your LinkedIn account, it's important not to overuse your profile for the sake of commercial use. Sometimes, these limitations can apply when you are too aggressive promoting a product or service on the site without having enough connections. In addition, if you post too many updates that promote a company's product or sell their services, this could be flagged as spam and cause more headaches than it is worth in the long run.
In order to avoid these issues, there are a few steps that you should use to check your status on LinkedIn. First, you should make sure that you add your own information about what you do for a living at the top of your profile. In order to do this, click on the "Edit Profile" tab at the top of every page and add more information under the header. This will keep this information at the beginning of your profile, easily seen by anyone who views it.
In addition, you should make sure that you include all of your own personal information using the "Your Info" tab. This includes your education and work history, because this information makes it easier for others to connect with you on the site. You should also avoid offering any links about your professional skills or marketing if you are not already a colleague or friend of the person who is viewing your profile.
Finally, you should make sure that you do not post any updates about your personal life or hobbies. The information on your profile should be limited, focusing on business and work-related activities that you are involved with. If you add more information than this, even if it is not considered spam, it can look unprofessional to people who view it.
When you follow these steps, you can avoid the problems that come from overusing LinkedIn for commercial purposes. While you can use the site to network with other professionals and find potential customers for your products and services, it is best to keep your profile focused on personal information rather than business information. By using this strategy, you can make sure that you do not lose your account because of commercial use limitations.
In Conclusion:
Finding people with an advanced LinkedIn search is not as hard as you may think! Just follow these steps and you will be able to find the perfect person for your project in no time.
The following steps will tell you how to get free LinkedIn connections and how to use advanced Boolean Search to find the best job opportunities.
About Post Author