If you can build your email team properly, you will be able to tap into the full potential of email marketing. By developing and fine-tuning processes, nurturing in-house talent, and building marketing lists, you will be able to generate revenue.
Yet, what kind of team do you need for email marketing? What should their responsibilities be? Can the whole process be outsourced and still see the same results? In this guide, we'll explore all these questions and go through the basics of creating an email team. 
Is it worthwhile to have an in-house email team For Email handling?
The ROI (return on investment) for email marketing can be as high as £42 ($57.95) for every £1 ($1.38) spent. However, to achieve these results, you will need a comprehensive strategy and a qualified team. To better understand team functions, roles, and structure, let's talk about outsourcing versus in-house teams.
Outsourcing email marketing functions account for 49% of organizations' email handling activities, outsourcing the entire channel for 12%, and in-house teams for 39%.
Small and midsize businesses often rely on agencies because of limited resources and because they don't have the resources to deploy in-house teams. Fortune 500 companies often have in-house teams that outsource part of their work to agencies.
When you look at the numbers, it becomes clear that those with the means to build in-house teams do so. Outsourcing might be the right choice if your budget doesn't allow you to hire an entire team.
Is it better to have specialists or generalists on your email team?
There are two types of candidates you will encounter when you build an email team: generalists and specialists.
Generalists can be hired and then specialized work can be outsourced, or in-house specialists could be hired, or you could combine both approaches. Regardless of your choice, it's important to clarify your needs before hiring anyone so they can execute your marketing strategy.
Keeping certain email marketing functions in-house and outsourcing the rest is possible if you hire generalists
A generalist is someone who can handle all aspects of your email marketing strategy, from creating segments to creating templates.
It is common for generalists to become future leaders because they are flexible and can multitask. For them to handle complex and technical issues, they will require specialist training.
The hiring of a generalist is a good idea if you need to combine some roles (such as having the same person serve as both strategist and copywriter), or if you want to use your in-house resources when working with an email marketing agency. When switching from outsourced to internally managed email marketing, you should also hire generalists. Those who specialize in general marketing are also great if you are just beginning with email marketing and/or your needs are fairly simple.  
In-house email marketing functions require specialist help if you want to move everything in-house
A specialist in email marketing focuses on a particular area of email marketing. Usually, this person is a copywriter with a focus on promotion and education or a strategist with expertise in generating and optimizing email campaigns.
Using a specialist saves you time and money since they know exactly what works and what doesn't and have extensive experience in their niche. Immediately after hiring them, they can help you tackle high-complex issues.
If you want your email marketing program to scale quickly, you should hire specialists. It is not possible to merge all email marketing functions when hiring specialists, and you will need individual resources for each function.
How to build your email marketing team: 5 roles and functions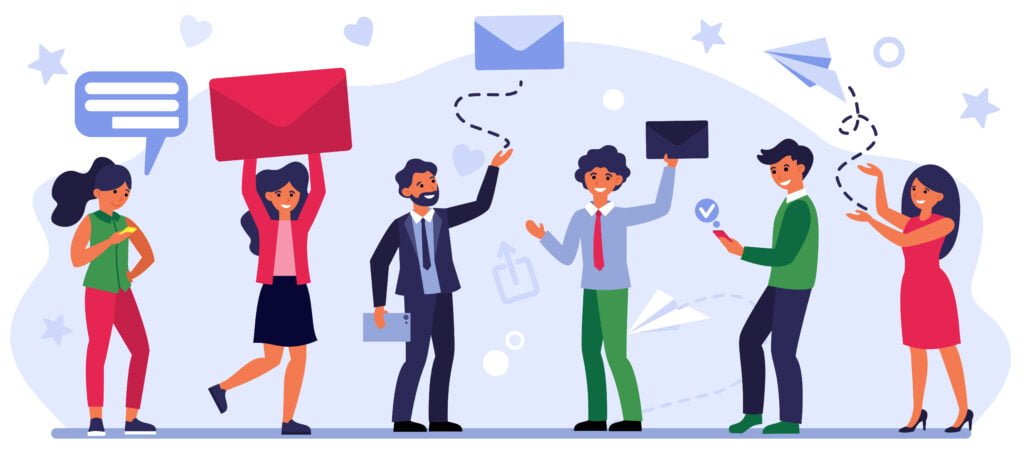 People sending and receiving messages. Online chat, email, envelope, newsletter flat vector illustration. Communication, internet, social media concept for banner, website design, or landing web page.
Based on your requirements and preferences, you'll need to fill the following roles in your email team: 
Expert in strategy.
Creative designer.
Proficient writer.
Software developer.
Expert in data analysis.
One or more generalists can take on all of these roles. A specialist for each role can be hired, or you can hire a combination. Your objectives and your budget will determine how you hire. These five specialists are recommended for an internal team:
Email strategist: creating a plan based on objectives
To achieve your objectives, the email strategist will develop a plan and an overarching strategy. Email strategists plan, organize, lead, and evaluate your email marketing campaigns. To plan automated and manual campaigns, they collaborate with both internal and external stakeholders.
The following skills are required of an email marketing strategist:
An understanding of technology and the ability to adapt to new marketing automation tools.
Analytical thinking and a data-driven approach.
Extensive database and segmentation knowledge.
Professional knowledge of local and international email regulations, including GDPR in the EU, CAN-SPAM in the U.S., and CASL in Canada.
Expertise in project management.
Communication, adaptability, and creativity are some of the soft skills that email strategists should possess. You can expect to pay between $61k and $110k for an email marketing strategist, depending on their level of experience. Alternatively, you can outsource this function to an email marketing agency, which will cost between $125 and $200 per hour, or roughly $46,800 per year if you work 24 hours per month.
Copywriters craft engaging emails
Creating compelling copy that captivates and converts is the job of the copywriter. Copywriters are responsible for writing emails that get your message across to your customers and prospects and encourage them to interact with your brand (for example, by clicking a link, registering for a webinar, or making a purchase).
Copywriters should possess the following skills:
Conversion funnels: an in-depth look.
An understanding of how to create content for users at all stages of the conversion funnel.
Writing promotional and educational content.
Communication, creativity, and time management are some of the soft skills that an email copywriter should possess.
A full-time copywriter will cost you around $62k per year. It can be less expensive to outsource this function to an agency or freelancer (anywhere from $10 an hour to $60 an hour or more), but the total cost is dependent on the number of hours and the amount of content you need.
Creating brand-appropriate layouts and templates is the job of the email designer
Designers create email layouts and graphics that match the email copy. Having your emails designed by a professional ensures brand consistency, as well as boosts engagement through eye-catching design.
This role requires the following technical skills:
Experience working with Adobe Creative Suite ( Illustrator, Photoshop, and InDesign)
A thorough understanding of the latest trends in design
An understanding of HTML, CSS, and JavaScript
In addition to creativity, designers must think like users, so they can create templates that convert.
It will cost you $61k per year to hire in-house email designers. Alternatively, you can hire a freelancer or an agency for this role at $20 per hour to $100 per hour or more.
Build responsive email templates with the email developer
By taking the aforementioned design and making it responsive, the developer can make it compatible with devices and screens of various sizes by adjusting images, buttons, and other design elements.
Email developers need to have the following technical skills:
JavaScript, HTML, and CSS are highly recommended
Understanding of SQL and Python
As email marketing is a user-facing skill, a front-end developer can fill this role. This role requires excellent interpersonal and communication skills since the developer will often have to interact with the designer and other team members. It will be our developer's responsibility to explain to them in non-technical terms why certain things work and others do not.
It will cost you approximately $73k per year to hire an in-house email developer. Freelancers or agencies will charge you between $50 and $120 per hour for this role.
If you will send out multiple email campaigns every month, we recommend hiring an in-house developer for this role, as you will end up paying more for the hours spent with a freelancer or agency.
The data engineer creates segments, evaluates performance, and identifies trends
You need this role to maintain the integrity of your email database and to monitor different metrics, such as sender reputation, delivery rate, open rate, click-through rate, and unsubscribe rate.
To find patterns and trends in email data, the email data engineer creates algorithms that make data more useful for decision-making.
Competencies they should possess include:
Data analytics platforms such as Databox create visual representations of processed data.
Databases such as SQL and NoSQL, as well as programming languages such as Python.
Hiring a good resource for this position will cost you approximately $94k per year. Email data engineers work closely with strategists to find solutions and tweak strategies as needed.
A consultant will cost you between $200 and $350 per hour for this task. If your strategist is adept at data trends and you have a limited budget, we recommend you use a consultant.
These tools are essential for email teams
Along with email automation tools, your email marketing team will require communication and production tools. Using the same technology stack as the rest of the company, your email marketing team will communicate and manage projects.
Creation and production tools
In addition to composing emails, creating designs and custom images, and perhaps even working on the structure and ideas for nurturing campaigns, these tools are required. Examples include:
MS Office 365.
Docs on Google.
The Adobe Photoshop system.
Designers, developers, and copywriters will tell you about the tools they prefer to use to complete their tasks. Also to Apache Hadoop, MS SQL Server, MongoDB, and similar systems, your data engineer may also need access to data visualization tools like Power BI and Tableau.
Collaborative and automated email tools
Your email templates are stored here, along with testing, creating, and launching campaigns. Each member of your email marketing team must have access to your email marketing automation software. Several options are available on the market, so you can sign up for a demo or a free trial and decide which is best for your email marketing team.
About Post Author