A lot of time, people put in a fake email and if you reach out to them your emails will bounce back, ultimately lowering your sending reputation.
With Mailifier, you don't need to use large platforms with dozens of features just to validate your emails.
They offer full-featured service entirely dedicated to email verification.
Their high-precision algorithms, user-friendly interface and integration features are meant to help you get only actual email addresses without hard bounces.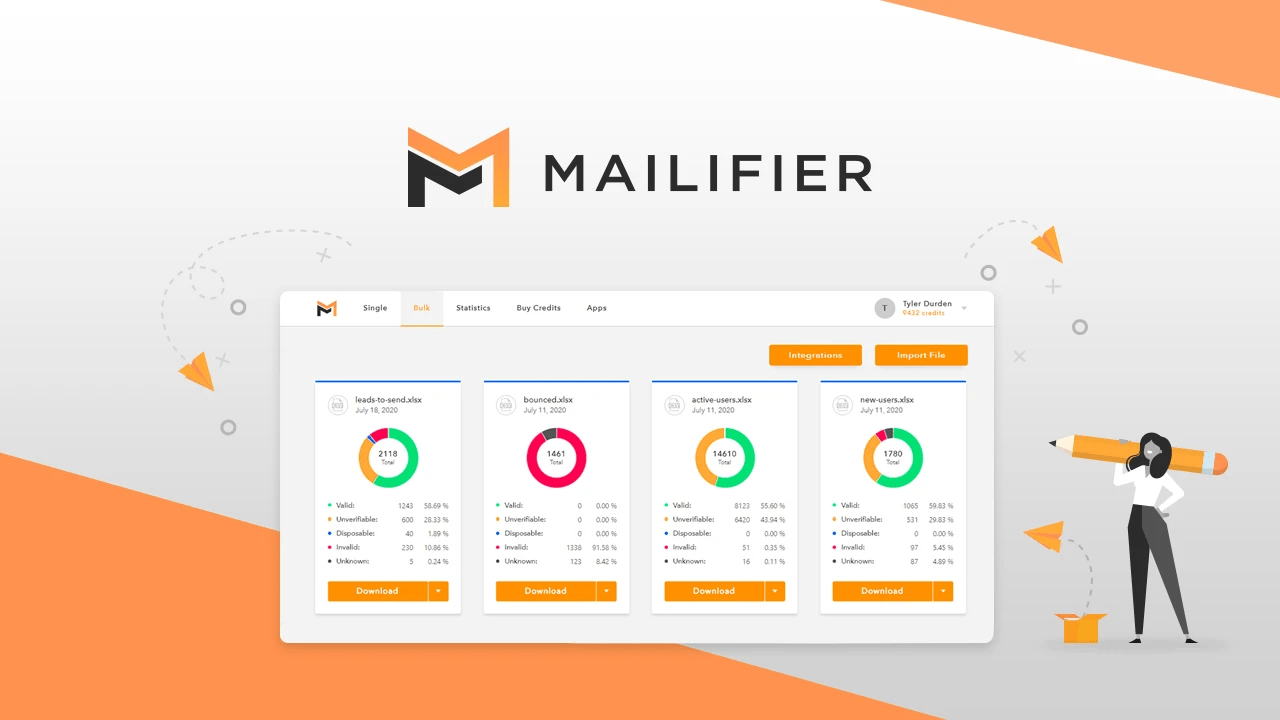 Mailifier Integrations
Before verifying some emails take a look at the integrations such as hubspot, mailchimp, aweber, campaign monitor etc. So, if direct integration is not sufficient then you can connect your CRM or email marketing tool directly with a mailifier.
For instance, you can see the list of emails (450) that we've collected over a couple of months and uploaded.
So, even before verifying it is already showing that there are some duplicates with some bad syntax. They don't actually charge you for emails that don't land in the inbox, have duplicates, or that have any bad syntax. They just charge you for the actual email.
Verification Process
After verifying it tells that there are 4 invalid emails, 28 valid, 0 unverifiable and disposable emails. Disposable are like burner emails that are kind of generated emails (doesn't look like a human would use).
Invalid emails mostly bounce if they are sent.
Other Features Of Mailifier (Email Address Valid Checker)
Single email verification
In single email verification you can add up to 10 emails. Then, copy and paste those emails in to verify them.
Statistics
You can take a look at the statistics. It's a kind of dashboard that mentions the emails that are coming in.
Buy Credits
You can check the credits on a monthly or weekly basis. If the credits that you have are not sufficient you can purchase even more.
The more you purchase then the more discounts it offers.
API/Widgets
You can create your API, so you can do a web hook, web pool or zapier or you can create your own API.
You can integrate your API directly or insert a javascript widget into your website.
Teams
In teams feature so you can actually invite your team to join you. You can even create your own team.
Settings Page
Let's see, this is the settings page wherein you can do the profile settings, app notifications, email preferences, billing information and invoice history.
Although there are many email verification tools, they have different qualities. That is, some of them will give you a better result in terms of the quality of your email list. Others may not be able to verify emails.
Hence, a good email verification tool should generate an email list based on the emails you are getting. Though it is very tedious but use automation to achieve this.
How Mailifier Validates Your Email Addresses with Maximum Accuracy?
Mailifier uses a multi-step algorithm with advanced filtering, testing with multiple checkers.
Deduplication- Mailifier removes all duplicate contacts in your email list for free.
Filtering- Checks domains, removing spam traps and disposable emails.
Anti-Greylisting- Anti-greylisting technology helps to reduce the number of unknowns.
Bounce Testing- Tests the email address for the bounces without sending an email.
High Accuracy- Only multiple real-time checks ensure dependable results. No cached data.
Fast Validation- It checks email validity with thousands of parallel validations per minute.
Powerful API- Provides high-end modular API with many options and integration.
Catch-all validation- It has algorithms to obtain validation results for catch-all emails such as Yahoo.
Data privacy- Your personal data is protected in ISO 27001 certified data centers with TLS encryption.
About Post Author