Are you searching for UpLead alternatives?
UpLead's price is ideal for companies with 1 to 1000+ employees and starts at $0 as a flat charge per month. There is also a free trial available.
When it comes to contact databases, data import/export, and lead capture, the majority of users choose UpLead. However, it might not be the best option for you.
Many different products available could be an excellent match for your needs, regardless of your priority for usability, affordability, user reviews, or value for your money.
Explore and contrast software right away that has features similar to those in UpLead.
See which other top choices are most similar to UpLead in terms of functionality, salient characteristics, and advantages based on standard features.
GrowMeorganic offers one of the premier LinkedIn email finder chrome extensions that can be a Chrome LinkedIn email finder add-on. With this add-on, you can extract email, telephone numbers, industry websites, job titles, and other data from LinkedIn with one click.
It is first-rate clean and 100% secure to apply with LinkedIn. Even with limitless search credit, GrowMeOrganic guarantees that you may seek and export as many authentic emails as you need from LinkedIn.
Compare GrowMeOrganic with different famous LinkedIn Email Finders: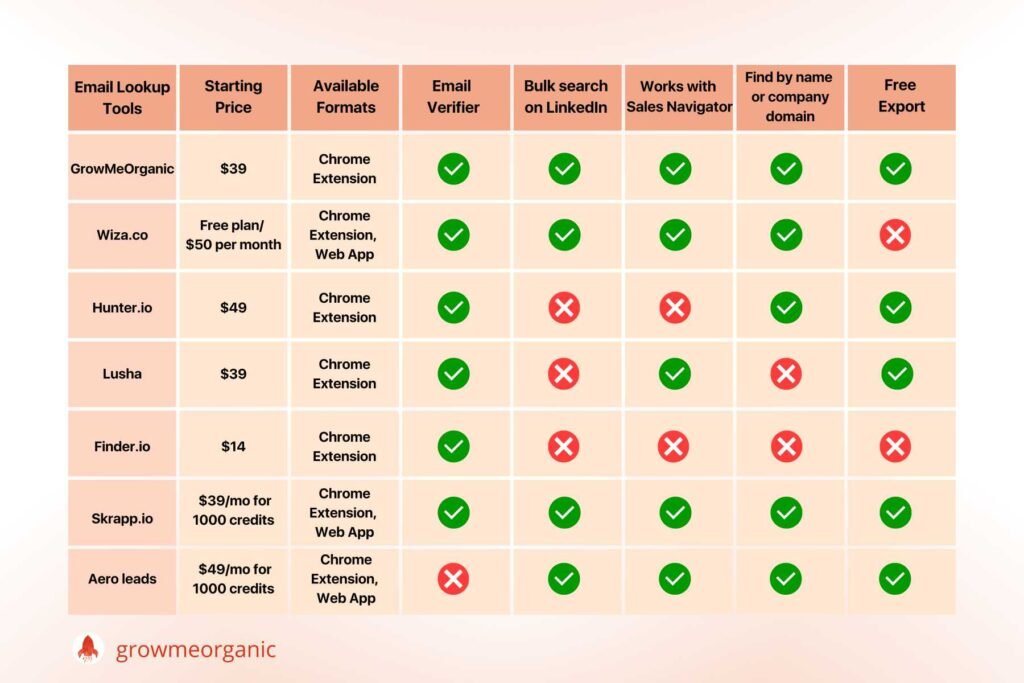 Features include:
Unlimited search and export credits, no string attached
Single-click on bulk export LinkedIn email finder chrome extension
Human-like conduct and quality exercise implementation
Provides Detailed company information of thousands of companies, including the number of employees, industries, and search features.
Offers cold email Response services, email list acquisition, and knowledge base and tutorial videos
Automated call for support Virtual assistant Support services
Schedule a demo call with the team.
| | | | |
| --- | --- | --- | --- |
| FEATURES | Starter | Growth | Pro |
| Users Allowed | 1 | 5 | Unlimited |
| Contact exports/month | 2k | Unlimited | Unlimited |
| Search/Month | 15M+ Company search 575M+ People search | 15M+ Company search 575M+ People search | 15M+ Company search 575M+ People search |
| Emails sent/month | 5k | Unlimited | Unlimited |
| Pricing/Month | $39 | $79 | $159 |
| Images, Attachments & Link Tracking | ✔ | ✔ | ✔ |
| Prospects/month | Connect with 200 | Unlimited | Unlimited |
Salesflare
Thousands of small and medium-sized B2B companies utilize Salesflare, an intelligent CRM & lead creation platform, to sell more with less effort. It delivers automatic email sequences so you may personally and effectively reach out to your leads at scale. Your address book is immediately filled out, and conversations with leaders you contact are recorded. Additionally, it effectively reminds you when to follow up. All you have to do is make the calls, write the emails, and drink the coffee.

Jobin. cloud
An All-In-One Automation Solution to Find and Engage with People is Jobin.Cloud. Filter, track, and manage profiles in auto-updating repositories after bulk import. Simple contact selection, email auto-finding, and mass outreach to the most acceptable people.
Hoovers Dun And Bradstreet
Although it's not the finest, Hoovers by Dun & Bradstreet is a respectable database platform. It allows me to bulk-download data (accounts, contacts, and business emails). I may select from the various criteria to acquire the best data for me using the platform, which is user-unfriendly but straightforward. The search engine for the business is effective, and I have access to a wide range of alternatives, including the company's size, location, and a lot more. The contact search is successful.
Lead Genius
When it comes to data and contact information, LeadGenius is a fantastic platform. It has a vast amount of data and an accounts list, which aids in the establishment of new commercial ventures across borders. It has been an incredible platform for me for more than four years that I have been utilizing. The quality of the emails and direct dialing is excellent, and it features special advanced filters. It is reliable. Additionally, very remarkable and quick is the user interface.
Rocket Reach
Finding the correct lead doesn't have to feel complicated.
Whatever your purpose, RocketReach Advanced Search makes it simple to locate the appropriate people.
Choose from dozens of search criteria to focus your search, and then check your matches' direct dial phone numbers, personal emails, and professional emails.
Want to locate engineers who are astronauts in Houston?
That is achievable!
Qualified
Companies may generate pipelines more quickly with qualified.
UtilizeUtilize your website, your most important asset, to determine your most valued customers, discover signals of buying intent, create sales and marketing campaigns, and initiate sales interactions right away.
The entire pipeline-generating platform for revenue teams using Salesforce is qualified.
Qualified assists top B2B firms in utilizing their website as their most important asset by helping them identify their most valued visitors, uncover buying intent signals, create compelling sales and marketing campaigns, and initiate sales dialogues immediately.
Qualified offers two main products: Qualified Conversations and Qualified Signals, and is powered by the Xforce platform. It is created explicitly for Sales Cloud users.
Wingman
Obtain knowledge, intelligence, and profits.
Wingman equips sales teams with conversation intelligence, knowledge of winning strategies, and in-the-moment coaching.
Wingman offers contextual, always-on, actionable, real-time sales coaching.
Without listening to a single call, gain insightful knowledge on what is going well and poorly on every sales call.
Wingman AI examines each sales call and email, spots trends, and helps you comprehend the client's voice on a large scale.
Quicker coaching results.
Being in the office to share or get feedback on the sales calls won't be missed.
A one-hour call can be reviewed in less than ten minutes.
Outreach
Turn to Outreach if you want to increase sales by prioritizing, evaluating, and personalizing your sales activity.
The #1 sales engagement platform, Outreach, aims to increase the selling efficiency of every sales team.
Outreach helps you attain your sales objectives by constructing pipelines and streamlining sales procedures.
Top tools include Outreach, sales intelligence, email and content templates, analytics and reporting, sales sequences and dialers, sales emails and tracking, and coaching analytics.
UniCourt
For access normalized court data for business development and intelligence, analytics, machine learning models, process automation, background checks, investigations, and underwriting, UniCourt offers Legal Data as a Service (LdaaS) via our APIs to AmLaw 50 firms and Fortune 500 companies.
For our Legal Data API, case research, case tracking, and other specialized services, our clients rely on UniCourt as a reliable partner to provide the basic infrastructure.
Our APIs include real-time reporting tools, data lakes, CRMs (Salesforce), platforms for investigations and research, and matter management systems.
Today, UniCourt operates internationally from the United States and India.
We give clients, including law firms, legal support organizations, litigation funders, and financial institutions, access to legal data from federal and state courts.

LeadSift
As a source of B2B intent data, LeadSift assists businesses in identifying and ranking the prospects and accounts, they ought to be pursuing.
We gather information from millions of unstructured public web data to determine when prospects are demonstrating a greater interest in rivals and pertinent topics.
Once we identify a signal, we go through a sophisticated mapping process to understand who these prospects are and where they work to determine if the signal is relevant. The end output is a contact enriched with company details and contact information that has been actively researching an appropriate company or topic. With LeadSift data, organizations can optimize ad spending, marketing nurture campaigns, and sales outreach.
About Post Author