You're at the right place if ContactOut isn't entirely cutting it for you or if you're seeking ContactOut alternatives to complement it.
Here is our handy list of choices and our justifications for choosing them.
Oh, and use the live chat to let us know if you think we missed something important.
Thank you for reading; we hope you find this information beneficial.
GrowMeOrganic
GrowMeOrganic offers one of the premier LinkedIn email finder chrome extensions that can be a Chrome LinkedIn email finder add-on. With this add-on, you can extract email, telephone numbers, industry websites, job titles, and other data from LinkedIn with one click.
It is first-rate clean and 100% secure to apply with LinkedIn. Even with limitless search credit, GrowMeOrganic guarantees that you may seek and export as many authentic emails as you need from LinkedIn.
Compare GrowMeOrganic with different famous LinkedIn Email Finders: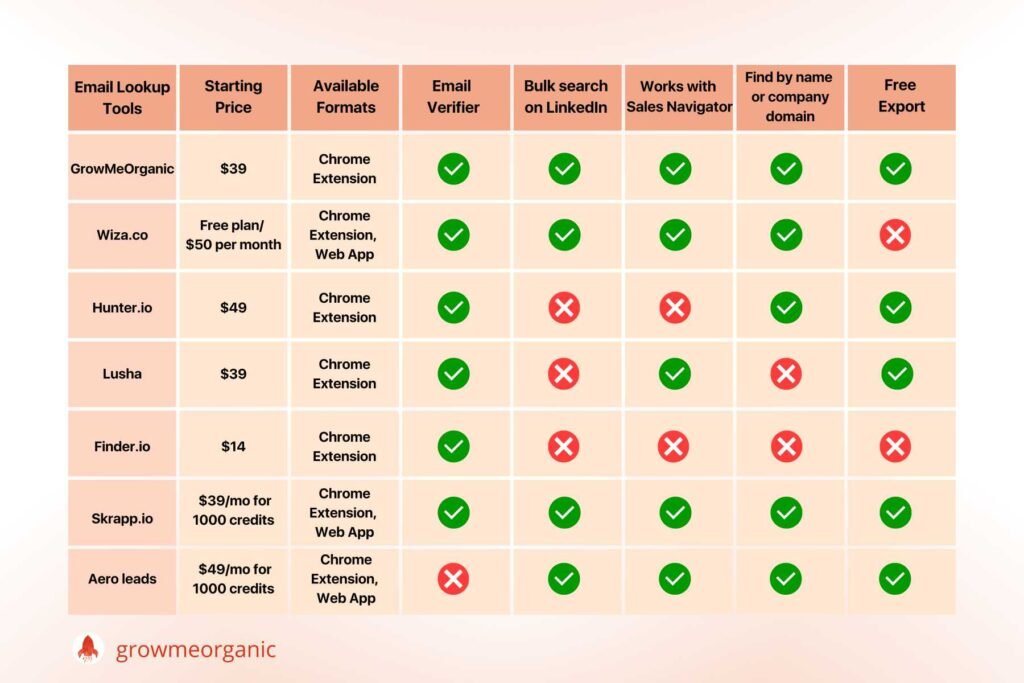 Features include:
Unlimited search and export credits, no string attached
Single-click on bulk export LinkedIn email finder chrome extension
Human-like conduct and quality exercise implementation
Provides Detailed company information of thousands of companies, including the number of employees, industries, and search features.
Offers cold email Response services, email list acquisition, and knowledge base and tutorial videos
Automated call for support Virtual assistant Support services
Schedule a demo call with the team.
| | | | |
| --- | --- | --- | --- |
| FEATURES | Starter | Growth | Pro |
| Users Allowed | 1 | 5 | Unlimited |
| Contact exports/month | 2k | Unlimited | Unlimited |
| Search/Month | 15M+ Company search 575M+ People search | 15M+ Company search 575M+ People search | 15M+ Company search 575M+ People search |
| Emails sent/month | 5k | Unlimited | Unlimited |
| Pricing/Month | $39 | $79 | $159 |
| Images, Attachments & Link Tracking | ✔ | ✔ | ✔ |
| Prospects/month | Connect with 200 | Unlimited | Unlimited |
Wiza
Wiza makes prospecting less painful.
Create a collection of confirmed lead emails ready for outreach by combining saved leads and searches from LinkedIn Sales Navigator.
WHY DO IT?
We appreciate how easy it is to start scraping by giving it a LinkedIn Sales Navigator URL.
When it's finished, an email will be sent to you.
Additionally, it handles deduplication across several jobs.

Hunter.iO
On the internet, Hunter.iO Hunter enables you to locate and validate business email addresses from various domains, organizations, or specific professionals.
WHY DO IT?
WR appreciate how Hunter's email extension displays the organisation's email format in addition to searching the prospect's email address.
Skrapp.io
A SaaS Chrome Extension for B2B networking on business social networks is called Skrapp.
WHY DO IT?
They have a terrific export capability, and the straightforward user interface makes it very simple for newcomers who want to extract large amounts of data from LinkedIn.
Seamless.AI
Seamless.
A B2B database with a twist is AI.
Every time someone conducts a search, its AI engine instantly investigates and validates emails and direct dials, which maintains the data up-to-date.
They furthermore offer a Chrome plugin for email finding.
WHY DO IT?
Although evaluations indicate that the results vary across different niches, they have a unique strategy, so it's probably worth a go!
GetProspect
GetProspect is an email discovery and generating tool.
The program will provide you with a list of leads with names, corporate emails, positions, LinkedIn URLs, company names, websites, industries, and more after you enter your search parameters.
WHY DO IT?
We enjoy how a LinkedIn search term can be harvested from numerous search pages and used to enrich LinkedIn profiles.
Nymeria
With the stroke of a button, you may find personal, and business email leads using Nymeria's browser extension.
WHY DO IT?
It features a convenient add-on feature that displays emails while you browse LinkedIn. Very useful for hiring managers!
LeadiQ
LeadiQ, with its millions of emails, phone numbers, titles, and accounts, let you concentrate on your pitch and develop connections without compromising a tidy Salesforce.
WHY DO IT?
They have friendly & helpful personnel who are always accessible to support you, and the UI is clear and straightforward.
Lusha
Thanks to precise and readily available B2B data, Lusha enables sales professionals to locate, interact with, and close prospects. Over 540,000 sales professionals and 167,000 sales businesses, including Zendesk, Google, Dropbox, and Uber, have joined Lusha's community.
WHY DO IT?
Using its prospecting feature, you can focus on those who are more likely to buy your product. You can quickly populate lists that will respond better to your sales pitches rather than constantly using the LinkedIn search bar.
EmailSearch.iO
Users of the straightforward tool EmailSearch.io can look for email addresses based on a domain, LinkedIn profile, or business.
WHY DO IT?
For mass email searches, they have a CSV upload and API solution. Your document will quickly be enhanced with contact information after you upload it!

AnyMail Finder
Discover the actual emails of anyone at any company. Hunter's rival Anymailfinder has one significant edge: it only charges for server-verified emails. Emails that match patterns are free. Free testing is available.
WHY DO IT?
We love live, one-on-one help, and Anymail Finder excels at it, as any of our users will attest.
About Post Author